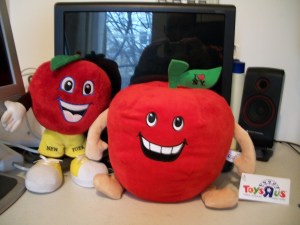 Turns out, this apple might be rotten.
The Times Square performer known as "The Big Apple"  has sued Toys "R" Us for allegedly basing a plush toy on his unique design without his consent.
Steve Mercier, 43, commissioned artist Dawn Hall to create "The Big Apple" character for his company, Mascot World, in 2005, and trademarked the design in November 2009. For many years, he donned his costume and posed for photos with tourists outside the store to earn his living.
Recently, he spied a plush toy on the shelves of Toys "R" Us that bore a striking resemblance to his costume. He sent two cease and desists.
"They don't even have the nerve to get back to me because they know they're in the wrong … It looks exactly like [my design], there's no way it could be coincidental," Mr. Mercier told The Observer.
He also released a book based on the character, The Little Apple, in March of this year, but does not currently sell toys related to the character. However, he produced a number of sample toys based on the design through Fiesta Toy "in late 2006 or early 2007."
Kathleen Waugh, Vice President of Corporate Communications at Toys "R" Us, said the company could not comment on the lawsuit as it is "a matter of pending litigation."
The performer, who lives in Belleville, New Jersey, is representing himself in the suit. "I don't really make a lot of money so I can't afford a lawyer right now," he said. He's asking for the record of sales as well as the total gross profit from the toys, according to court documents obtained by The Observer.
Roman Tsibulevskiy of Goldstein Patent Law said that although Mr. Mercier may have trademarked the image, it was unlikely the mascot was patented as "There's nothing new about this idea – it's an apple with legs."
Mr. Tsibulevskiy said that in order win the case, Mr. Mercier would have to prove that consumers would be confused between his product and the one on sale at the toy store.
This isn't Mr. Mercier's first suit either. Following an incident in October 2011, he was successfully awarded $5,228.50 by the New York Civil Court after the NYPD confiscated his costume and it was damaged in storage.
"The Naked Cowboy has been performing in Times Square with no problems at all," Mr. Mercier said.
What's a Red Delicious to do?
[youtube=http://www.youtube.com/watch?v=_tzPHK00MGU&w=560&h=315]