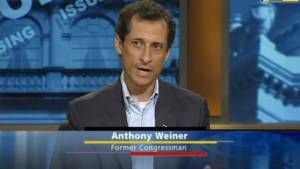 A week after losing his race for mayor, ex-Congressman Anthony Weiner has found a new calling: punditry.
Mr. Weiner appeared on NY1's Road to City Hall last night to pontificate on the political landscape he'd just left. He did the same in the pages of the Daily News this morning. In both cases, the failed candidate reflected on the Democrat who bested him in the primary.
"To some degree, I've now lost two elections where my opponent framed this 'two cities' thing," he said on NY1, referencing the "Tale of Two Cities" slogan employed by Bill de Blasio as well as his 2005 challenger Freddy Ferrer. "I tried a different framework with 'the middle class and those struggling to make it.' But look, there is this level of discontent and concern out there that Bill de Blasio tapped into, did it skilfully. He won; I lost."
Mr. Weiner further offered advice for Council Speaker Christine Quinn–who came in third place but still far ahead of his paltry showing.
"Here would've been a plausible thing to do: Say look, 'I got 20, 25 percent of the Democrats who say they like Mike Bloomberg, let me try to own them and let me stick to it,'" Mr. Weiner argued. "The one thing voters can't stand is this notion that you're weaving in and out trying to figure out things … You know, look, it's very difficult to lead a legislature and be a good politician."
"There are completely different imperatives and to some degree you want to show people as mayor what you're going to fight for and not compromise on–I mean look, you probably will," he added.
And though he'd previously shied away from discussing ex-Gov. Eliot Spitzer's similarly scandal-scarred political comeback attempt, Mr. Weiner weighed in on the comptroller's race last night when prompted. He argued that Mr. Spitzer's opponent, Scott Stringer, ultimately benefited from Mr. Spitzer's infamy–a situation not entirely unlike his own, he noted.
"In a race like that, you know, where you have a famous person, the person becomes famous and then immediately thereafter whoever he is running against becomes famous, right, that becomes the dynamic," Mr. Weiner said. "'What happened to Scott, he's a solid capable guy, it wasn't like he was an empty suit himself. So all the attention came to Spitzer and then immediately, well, who else is there? This was the challenge that I had."