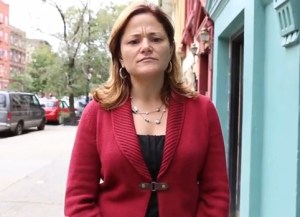 Councilwoman Melissa Mark-Viverito is calling for a time-out in the public advocate's race, which has grown increasingly hostile ahead of next Tuesaday's Democratic primary runoff.
Ms. Mark-Viverito, a supporter of Brooklyn Councilwoman Letitia James, recorded a video criticizing Ms. James's rival, State Senator Daniel Squadron, for waging new "heights of personal and petty attacks" against her candidacy.
"No matter who you support for office," she pleads in the video, released this evening, "we just can't allow this type of politics of personal destruction in our discourse. For all of our sake, please end these personal and petty attacks."
But it's not just Mr. Squadron who is throwing out barbs ahead of next Tuesday's runoff, which many observers believe remains neck-and-neck. And while Mr. Squadron's team has been hitting Ms. James for failing to release her tax returns–and then only releasing a year's worth–Ms. James's team has been hard at work, accusing Mr. Squadron of misrepresenting the status of his trust fund and accusing him of being too close to Mayor Michael Bloomberg.
In a letter today, Ms. James further hit Mr. Squadron for a fund-raiser hosted on his behalf by Patton Boggs, a Washington D.C. law firm that her team claimed "has a dubious record on labor, human rights, and the environment."
"It is extraordinarily inappropriate for a Democratic candidate for an office that is supposed to provide a voice for everyday New Yorkers to be so deeply entangled with a firm that has worked vigorously to undermine our progressive values – a firm that has repeatedly fought to allow anti-labor practices at all costs," her campaign manager wrote. (The firm's members include many prominent Democratic donors.)
Meanwhile, Mr. Squadron hit Ms. James over a Daily News report that found she had failed to donate her City Council bonuses to charity as she said she would, labeling the "ethics lapse" "part of a trend of "saying one thing and doing another." (Ms. James's team noted that Mr. Squadron receives similar bonuses, too.)
"New Yorkers need a Public Advocate they can trust to fight for them," Squadron campaign spokeswoman Amy Spitalnick said in a statement. "The behavior reported in today's Daily News is lying and disqualifying. Lying about donating her lulus to charity is just the latest in a pattern of misleading the voters. She is not fit to serve."
Watch Ms. Mark-Viverito's video below:
[youtube=http://www.youtube.com/watch?v=WGfLLj2-joY&w=420&h=315]