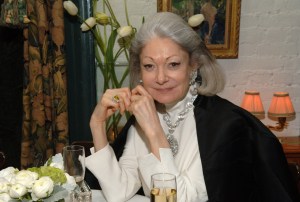 Old-money types love to hate on the nouveau riche–duh, we've all seen Titanic–but in the upcoming issue of Vanity Fair, one highfalutin lady throws major shade at Silicon Valley to hilarious effect.
Denise Hale is a Serbian-born San Francisco society staple who was once married to legendary director Vincente Minnelli. She channels everyone's favorite cranky great-aunt when she tells contributing editor Evgenia Peretz that the Bay Area's techies "bore the hell out of" her in a piece about the culture clash between WASPy elites and the region's tech VIPs.
"They're one dimensional and can only talk about one thing," she's quoted as saying in the online preview of the piece. "I'm used to brilliant men in my life who leave their work, and they have many other interests. New people eventually will learn how to live. When they learn how to live, I would love to meet them."
But even Mrs. Hale has to admit that one particular CEO is killin' it–"Marissa [Mayer] is something which I like. Marissa has a handsome husband, in love, beautifully dressed, a lady. I don't go for this slob culture–leave me alone," she implores.
The article likely will be worth reading for Mrs. Hale's bons mots alone, but Ms. Peretz also will speak with other old-San Fran society types, as well as Ken Fulk, who, speaking of nouveau riche, designed the bonfire of bad taste that was Sean Parker's Game of Thrones-meets-The Hobbit nuptial extravaganza. One thing's for sure, though: if there's a battle raging between this aging socialite and the tech world, we'll gladly forsake our iPhones for just a few hours of face time with the hilarious Hale.