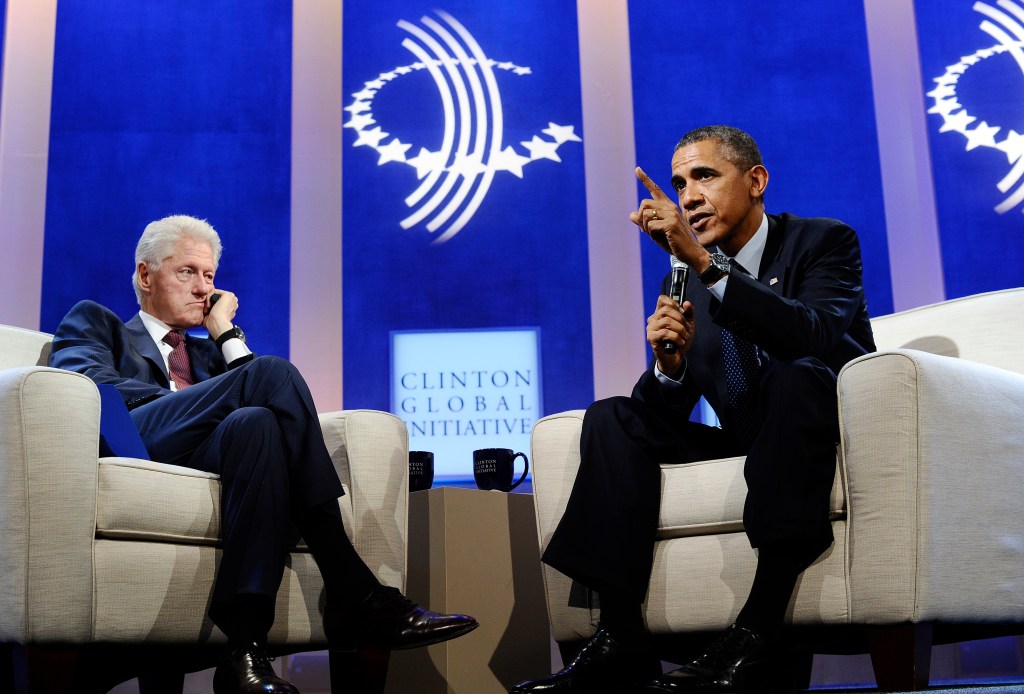 President Barack Obama said Republicans have tried to "discourage people from getting a good deal" by vilifying Obamacare during a sit-down with former President Bill Clinton this evening.
The event, which was the highlight of the Clinton Global Initiative's annual meeting, provided a fascinating tableaux, as the elder statesman—often dubbed the "Great Explainer"– tried (and tried some more) to get Mr. Obama to finally sell his signature health proposal to the nation.
The task has proven enormous difficulty for Mr. Obama, despite his own widely noted rhetorical skills.
"What are you gonna do on October 1st? Tell 'em how this has gotta work," urged Mr. Clinton, sitting in a plump chair across from the president on a ballroom stage at the Sheraton New York Hotel.
"I'll give the president a chance to talk about all the good stuff that's happened," he'd said earlier.
During the lengthy discussion, Mr. Obama repeatedly urged those watching to sign up for plans using new health care exchanges, which he said would make purchasing health care just like buying "an airline ticket or a flat-screen TV."
And he spent ample time criticizing Republicans for opposing a plan he said would transform "the most inefficient system on earth."
"Normally this would be pretty straight-forward," said Mr. Obama. "But let's face it, it's been a little political, this whole Obamacare thing."
"What you've had is an unprecedented effort that you've seen ramp up over the last month or so in which those who have opposed the idea of universal health care in the first place and have fought this thing tooth-and-nail … have been tryin' to scare people and discourage people from gettin' a good deal," he lamented, calling a slew of commercials airing to oppose the efforts "a little wacky."
Mr. Obama also recounted a favorite encounter he'd heard about a man who'd been invited to sign up for the plan at a local county fair.
"He turns to his friend and said, 'This is a great deal. This is a lot better than Obamacare,'" he recalled with pride.
The pair was introduced by Mr. Clinton's wife and Mr. Obama's former Secretary of State, Hillary Clinton—herself the front-runner going into 2016.
"I thought hard about how to introduce both these men," she told the audience. "They each married far above themselves."