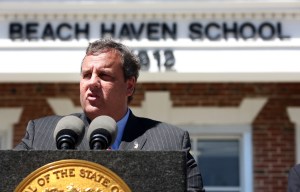 BEACH HAVEN – The storm-wracked 101-year-old school here reopened today, symbolizing that one aspect of an extensive and expensive comeback from last year's Superstorm Sandy is nearly complete.
Gov. Chris Christie and Education Commissioner Chris Cerf hailed the reopening of the school a stone's throw from the beach as symbolic of the state's ongoing recovery.
After the next couple of weeks, there will be only one remaining unopened school, in nearby Long Beach Island, and that is on schedule to reopen next March.
There was $40 million in damage overall to the state's schools as a result of Sandy, and the Beach Haven School underwent nearly $1.8 million in renovations, including a new gym floor, newly painted classrooms, and an updated electrical system, Christie said.
On Oct. 30 just about every school was closed due to Sandy, Christie said. Within three weeks of Sandy's hitting New Jersey, 99 percent of the schools had reopened.
Reopening schools was one of his priorities, Christie said today, because getting kids back into school "put them in a place they are familiar with, a place they are comfortable with."
"It makes children's lives more normal and makes parents' lives more bearable," Christie said with a bit of a laugh.
Christie and Cerf thanked nearby Eagleswood schools for playing host to the Beach Haven youngsters during the renovations.
But Christie said in response to a question that he has some schools goals still being worked on, including resurrecting the Opportunity Scholarship Act to provide alternatives to kids in failing districts, although he said probably nothing would occur with OSA until after the elections.