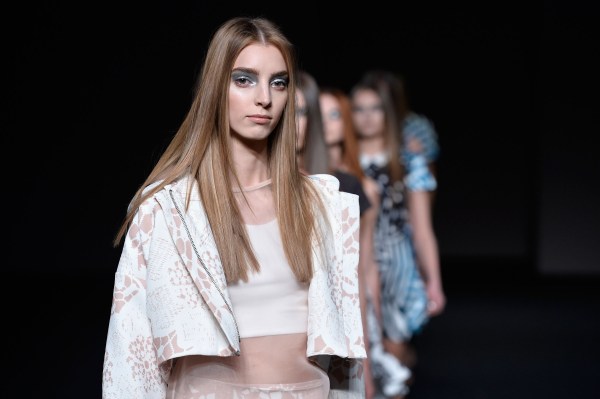 Five years ago, Vogue published an article in its July 2008 issue titled "Is Fashion Racist?" When the magazine sold out nearly overnight, it seemed there might be hope. Today, the answer to Vogue's question has hardly changed.
The dialogue about race was revived again this Thursday when former model Bethann Hardison sent outraged letters to each of the major fashion design councils in New York, London, Paris and Milan, demanding they clean up their "racist act" of using "one or no models of color" during February's Fall Fashion Week in New York. Fifty fashion houses were named, including Alexander McQueen, Chanel, Prada, Versace and Marc by Marc Jacobs.
Only 6 percent of the models appearing in February were black, even though blacks comprise more than 26 percent of the city's population. Strangely, Ms. Hardison added that designers should no longer be able to get around diversity by using Asian models, even though only 9.1 percent of the February models were Asian. But given Ms. Hardison's background, it makes sense.
The Brooklyn-born Hardison was working for a button company in the Garment District during the civil rights movement before she was discovered by designer Willi Smith in 1967. She walked the catwalk into the 1970s, pushing racial boundaries by appearing in "white" magazines like Allure, Harper's Bazaar and Vogue. By the time she retired from modeling and became an activist in 1981, the prospects for black models seemed bright. But in 2008, just days before Obama was elected the first black president, she told the Guardian things were worse than ever. "We had been there," she said, "and it had disappeared."
Responding to the letters, the councils have shifted the blame to individual designers, who pick their own models. Stephen Kolb, the CEO of Council of Fashion Designers of America, told Women's Wear Daily that he has emailed CFDA members twice within the past two weeks encouraging diversity. CFDA President Diane von Furstenberg was in fact one of the few designers who used more than one model of color in her Fall 2013 show. Similarly, the British Council of Fashion stated through British Vogue's Ella Alexander that the "British Fashion Council does not organise model castings," and that BFC is "more than happy to engage in tackling any issues regarding best practice and diversity at London Fashion Week."
Yet in an industry where everything is funneled down from the top, such defenses feel hollow. As Ms. Hardison wrote, "No matter the intention, the result is racism. Whether it's the decision of the designer, stylist or casting director, that decision to use basically all white models, reveals a trait that is unbecoming to modern society."
Here's the letter in full: