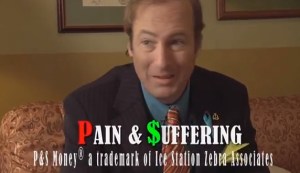 How odd will the Breaking Bad spin-off starring Bob Odenkirk's lawyer character, Saul Goodman, going to be? Well, think about it: So far the show, tentatively titled Better Call Saul (after the character's famous late night commercials), has been cast as a half-hour comedy. According to the Twitterverse, people have already started comparing it to Breaking Bad, which the show will be a prequel to. (Which makes sense, especially for anyone who looking forward to Mike Ehrmantraut cameos.)
But tonally? We imagine the show going to some very dark places indeed.

Here is the press release sent out by AMC:
AMC and Sony Pictures Television confirmed today that they have reached a licensing agreement for a spinoff of Vince Gilligan's landmark AMC/SPT series Breaking Bad. As conceived, the new series is based on the show's popular Saul Goodman character with the working title Better Call Saul. Plans call for Saul to be a one-hour prequel that will focus on the evolution of the popular Saul Goodman character before he ever became Walter White's lawyer.
[youtube=http://www.youtube.com/watch?v=YPR9ORpwBEU&w=560&h=315]
[youtube=http://www.youtube.com/watch?v=oN4PSu8qzNc&w=560&h=315]
For anyone saying that we should watch Better Call Saul as its own entity and not as a Breaking Bad spin-off, well…why? It's not like we would have any idea who Saul Goodman was without five seasons of the show's legacy to lean on. And considering the dark places that Saul has gone this season…offering to knock off both Jesse and Hank (or at least send one to Belize while comparing the other to Old Yeller), bringing the sitcom back to hijinks territory will be difficult, if not impossible. Then again, we have faith in Mr. Odenkirk's decisions, be they Saul-based or other.