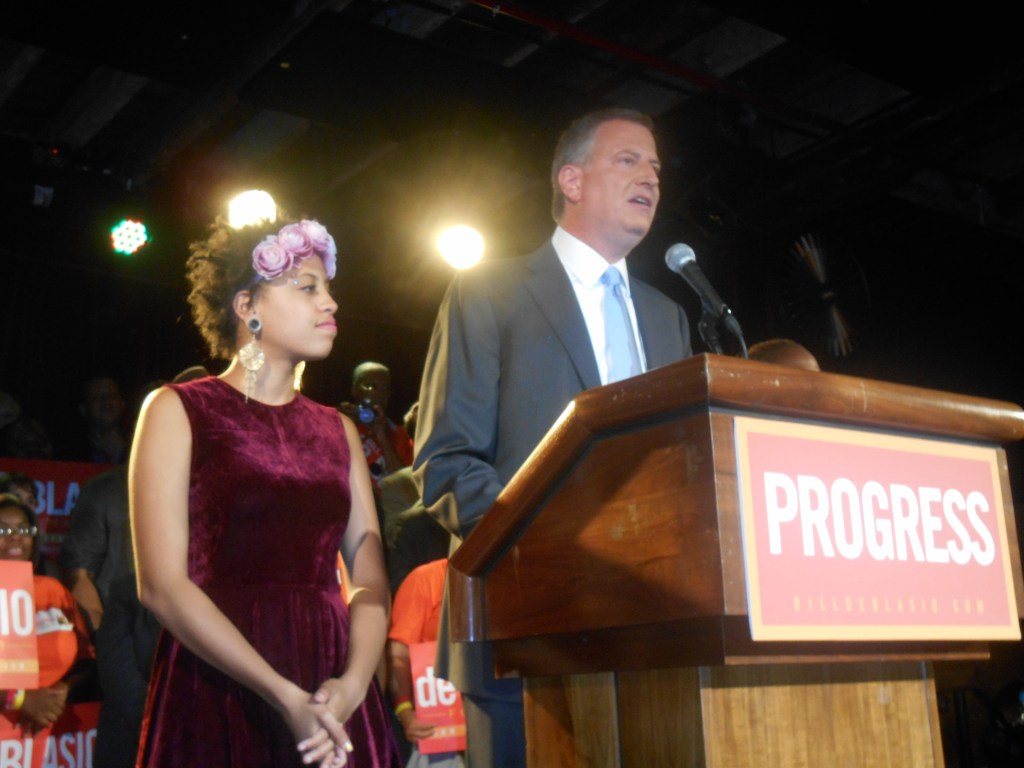 Public Advocate Bill de Blasio–a once obscure public official with a name few at first could pronounce–declared victory tonight, and now stands on the cusp of winning the Democratic nomination for mayor without a runoff.
The latest returns put Mr. de Blasio at slightly over 40 percent of the vote–a feat once deemed all-but-impossible in a crowded field of five candidates. Looming before hundreds of supporters at The Bell House, a Gowanus music venue not far from his Park Slope home, Mr. de Blasio labeled his campaign "a movement" and delivered a startling rebuke to the Bloomberg era.
"What we have achieved here tonight, and what we'll do in the next round of this campaign, just won't change the view of how things look inside City Hall, but will change the policies that have left behind so many of our fellow New Yorkers outside of City Hall," he said.
The audience erupted into applause as Mr. de Blasio flexed the unabashed liberalism that carried him so far, showering him with "Mayor de Blasio" chants.
The race isn't over just yet. If the remaining ballots cause Mr. de Blasio to dip under the 40 percent threshold, he would still face a runoff election with second-place finisher Bill Thompson. But there is little doubt about which candidate would jump into that contest with the political headwinds at his back to face Republican nominee Joe Lhota.
"We know there's a long road ahead–certainly that's true for this campaign, but also in the job we're seeking to do," he told his supporters. "We understand that making big change isn't easy–never has been. A year ago, [some] said our ambitious for the city was 'too bold,' that we're asking the wealthiest New Yorkers 'too much,' that we're setting our sights for the children of this city, 'too high,' that we're guilty, guilty my friends, of thinking 'too big. 'Well, let me say this: 'We are New Yorkers!'"
The audience howled in approval.
"Proud citizens of the greatest city in the greatest country on Earth," Mr. de Blasio continued, only to be interrupted by more cheers.
"Settling for the status quo isn't just too small," he told them. "It's a risk that we as a city cannot afford to take."
Mr. de Blasio tapped into many of the themes of his campaign, including the reformation of stop-and-frisk, the battle against hospital closures and his quest–which critics call quixotic–to raise taxes on high earners to fund universal pre-kindergarten.
Hundreds of supporters, including actress Cynthia Nixon and Mr. de Blasio's  increasingl famous family, jammed the venue. Many spilled outside into a party area where food trucks served delicacies like grilled rice balls and miniature pizza pies. The commercial that many observers believe vaulted Mr. de Blasio past his rivals, a 30-second spot of his afro-haired son speaking candidly about stop-and-frisk, was played twice while massive screens broadcast the astounding primary results.
As Tuesday bled into Wednesday, the crowd cheered with joy as it became clear Mr. de Blasio had trounced his opposition. For his boosters, the possible primary victory meant Mr. de Blasio would have a mandate to enact a more liberal, open-armed vision for the city, especially on policing issues.
"You're looking at the city speaking of the desire to move to a kinder, gentler city," said Queens State Senator James Sanders, an early de Blasio backer. "We want the gains of the Bloomberg administration; however, we are saying we can do it without criminalizing large chunks of our youth."
Dana Beauford, leaning against the wall with her teenage son as merengue music swirled outside, said she was excited for the potential dawning of a new era in the five boroughs.
"We have hope," Ms. Beauford, a resident of Co-op City in the Bronx, gushed. "He speaks to the things we care about, the fact that the outer boroughs are treated like second class citizens."
Mr. de Blasio's celebration reflected his remarkable feat of dominating almost every demographic in the primary. A motley mix of white, black, young and old reveled in his win.
"It means a little more diversity in the way the city will be run," said Madi Kaba, a black Upper East Side resident, grinning with his white friend from East Harlem. "It will be different than what we've seen the last couple of years."