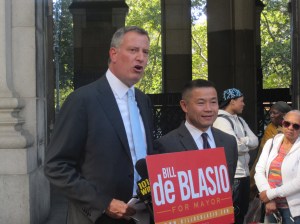 Democratic mayoral candidate Bill de Blasio this afternoon laughed off accusations leveled by his Republican rival that his ideas are "directly out of the Marxist playbook," calling the charges "silly."
"I think Joe Lhota's attacks are becoming increasingly silly," said Mr. de Blasio, speaking to reporters at an endorsement event across the street from City Hall. "I'm a progressive Democrat. I'm proud to be. I've worked on issues of inequality my whole life. I'm very proud of the work … I did related to Central America."
The two candidates have been sparring since yesterday over a New York Times report on Mr. de Blasio's past support for the Nicaraguan Sandinista party, as well as his once-professed endorsement of a "democratic socialism" vision for society.
But Mr. de Blasio, who is far ahead in the polls, brushed off the remarks, saying they were nothing more than classic Republican mud-slinging.
"What I'm seeing from the other side is just a classic Republican tactic–a classic right-wing tactic of division. And it's something I think the people of this city will reject," he said,  adding that "name-calling" was obscuring the real issues facing the city.
Mr. de Blasio went on to say that he has always believed in a "progressive, activist approach to government, an aggressive use of the tools of government to work for social justice and economic justice" but that he should be judged by his actions. "I'm just not going to get lost in labels, I want to walk about what I've done and the things I stand for here and now," he said.
He also dismissed questions about whether he'd ever subscribed to communist or Marxist ideology.
"It's 2013. I'd like to note, I'm not gonna stoop to Joe Lhota's level here," he said. "This is clearly–it's just classic Republican tactics … I am a progressive who believes in an activist approach to government. You can call it whatever the heck you want."
Mr. de Blasio also responded to charges leveled by Mr. Lhota that he is "ducking the press"–as demonstrated by a scene yesterday in which reporters–including Politicker–chased Mr. de Blasio down the street trying to ask questions.
"Guys, guys, do I look like I'm dodging you right now? … It's the silly season," Mr. de Blasio responded, arguing that he had held press availabilities almost every day since winning.
"Let's be real. I'm very proud to make myself available on a regular basis," he added just before the press conference was ended by Mr. de Blasio's staff after just six questions.