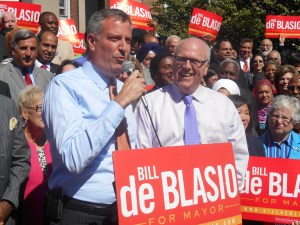 Bill de Blasio's not ready to overthrow capitalism just yet.
Asked to respond to Republican mayoral rival Joe Lhota's "Democratic socialist" hit, Mr. de Blasio wasted no time firing back, accusing Mr. Lhota of running a typical right-wing smear campaign.
"I am not surprised that my opponents will throw labels and call names. That's a Republican tactic. That's a right-wing tactic. We've all seen it plenty of times," said Mr. de Blasio, flanked by Queens Democrats at an endorsement event this afternoon.
"I'm very proud to be a progressive," he added. "I'm very proud to be a Democrat."
Mr. Lhota's charge stemmed from today's front-page New York Times story, in which one of Mr. de Blasio's former associates recalled that the public advocate once described his political views as "Democratic socialist." Mr. Lhota called Mr. de Blasio's alleged views "really unfortunate" and criticized him for supporting Nicaraguan revolutionaries and traveling to Cuba.
But Mr. de Blasio wouldn't outright deny that he had used that description of his views in his younger days.
"I won't get into details of what was accurate and inaccurate in that article," he said. "That's not a quote from me. That's someone's notes. I think the reporter asked if I remembered that and I said, 'I don't remember that.'"
Mr. de Blasio further declined to say whether he ever drew inspiration from far left or Marxist ideology, but insisted that other heroes of the left, including President Franklin Roosevelt, remained sacred to him.
"I'll simply say this: one thing was accurate," Mr. de Blasio said. "I've talked all my life about Franklin Delano Roosevelt. I've talked all my life about a tradition of compassionate government–an activist government–and I've talked about not accepting a tale of two cities.