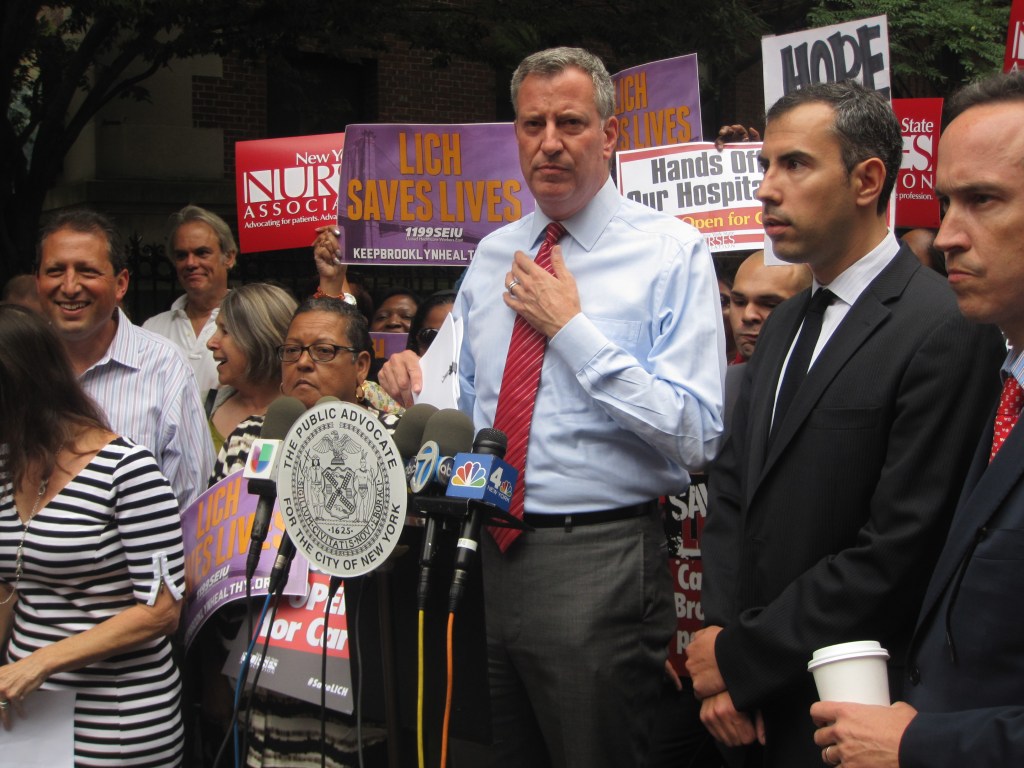 A confident Bill de Blasio brushed off suggestions that the Democratic nomination is in limbo, telling reporters this afternoon that he's moving full steam ahead, regardless of the final outcome of the mayoral race's count.
"I don't feel like I'm in limbo," declared Mr. de Blasio, speaking to reporters at a lively rally in Brooklyn celebrating a judge's ruling to keep Long Island College Hospital open indefinitely, to supporters' enthusiastic applause.
"Can I ask the audience, 'Do I look like a guy in limbo?'" he asked them.
"No!" they shouted back.
"We are moving forward to another election. You can fill in the blank … because something has to still play out here. But to us it's equal. We are moving forward to the next round of this election, one way or another. And we're very comfortable with that reality," Mr. de Blasio continued.
According to preliminary election results, Mr. de Blasio won 40.3 percent of the vote–just enough to put him over the 40 percent threshold needed to avoid a runoff. But second-place finisher Bill Thompson has repeatedly refused to concede the race until thousands of additional ballots are counted, a process that will last well into next week.
But Mr. de Blasio brushed off concerns that the uncertainty would hurt the party ramping up for the general election, an argument presented by several Thompson supporters who switched their endorsement over to Mr. de Blasio after last Tuesday's election.
"I think us Democrats are doing fine right now," he assured.
As to Mr. Thompson's decision to stay in the race, Mr. de Blasio was equally calm.
"He has every right if he wants to pursue the full count, he has every right," he said. "But we're continuing to build our campaign."
Politicker asked Mr. de Blasio what he thinks should happen in an election where one candidate gets 39.9 percent of the vote, and another gets considerably less. Should the second-place finisher concede for the good of the party?
"Did you say 40.2 percent?" he interjected with a smile, rousing more applause before doubling down on his line that his campaign is ready, no matter what.
"You can't tell a candidate what to do. It's each candidate's choice. I respect whatever choice Mr. Thompson makes," he said, adding that he's "very comfortable with the situation."
"We have been prepared for months," Mr. de Blasio explained. "We didn't spend a single day thinking there wouldn't be a runoff. So everything is strategically ready for a runoff. There is a very, very large apparatus in place, ready."
Mr. de Blasio was also asked about news this morning that Mayor Michael Bloomberg will not endorse any candidate in the mayor's race.
"I was waiting by the phone," he said sarcastically, drawing laughs. Still, he applauded the decision.
"I think this was an admirable and appropriate act," he said. "He made very clear that he had two intentions: one, to finish his administration effectively, and two, to govern over an effective transition. I think the decision he made was consistent with those values."