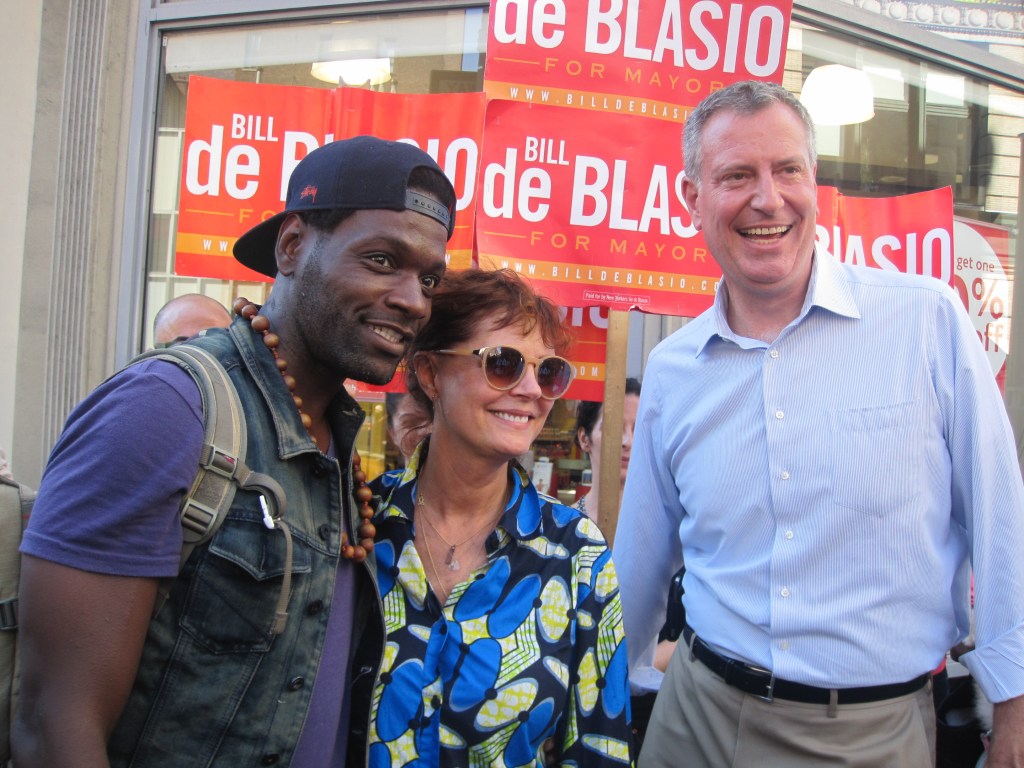 Public Advocate Bill de Blasio seems to have it in the bag.
With a commanding lead in the polls and palpable momentum, Mr. de Blasio was treated like a reigning champion as he embarked on a five-borough campaign tour today that sometimes felt like a victory lap, with less than a week to go before the primary.
"You're big, you're strong, you're the best! There's nobody but nobody better than you!" gushed Venancio Rivera, 55, who stopped to offer his support outside a Trader Joe's in Chelsea, where the candidate spent nearly an hour campaigning with actress Susan Sarandon.
Mr. de Blasio doesn't have the same warmth on the stump as former front-runner Christine Quinn, who embraces supporters like long-lost family. He lacks the spunk of Comptroller John Liu, who often sprints between events, or the caustic wit and combative energy of former Congressman Anthony Weiner, whose own implosion seemed to have fueled Mr. de Blasio's rise.
But Mr. de Blasio, a consummate smooth operator who currently stands–quite literally–head and shoulders above his rivals, seems to have sparked the kind of raw excitement rarely seen on the trail, with supporters treating his candidacy as a movement taking aim at the Bloomberg administration and vowing to end what he calls the "tale of two cities" where the rich are getting richer as poverty soars.
In Chelsea, Mr. de Blasio drew a crew of reporters and cameramen–including several international outlets–as he greeted voters. chatting and making small talk while he posed for photos and answered questions about his plans.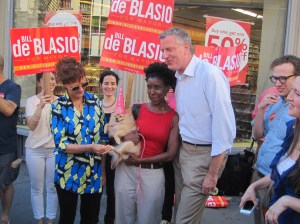 Among the most excited was volunteer Sheila Baker, whose Pomeranian, Diamond, donned a pink birthday hat decorated with stickers spelling "de Blasio for mayor 2013," and said she'd begun the race as a Weiner supporter.
After revelations that Mr. Weiner continued sexting long after his resignation, Mr. Baker said she looked to the other candidates, and was immediately attracted to Mr. de Blasio because of his clear, consistent stance against stop-and-frisk.
"That caught my attention," said Ms. Baker, an African American, who said that she hadn't considered Bill Thompson, in part because of his murkier stance on the controversial police tactic. "From what I understood, he didn't have any plans to stop it," she said. (Mr. Thompson has rolled out some proposals on the issue, but disagrees with Mr. de Blasio on the legislative reforms recently passed by the City Council.)
Ms. Baker also pointed to Mr. de Blasio's family, which has played a prominent role in the campaign. "Bill de Blasio just seems like a guy that lives next door to me, my neighbor," she said.
Roman Schusterman, 32, who lives in Brooklyn, said he'd also said he planned to vote for Mr. Weiner until the chance encounter with Mr. de Blasio this afternoon.
"He comes off like a genuine person," said Mr. Schusterman, who said he also felt momentum building around the candidate. "You have to support Bill de Blasio because he's the winner … I guess we have to put our fruits in the de Blasio basket. Maybe our wieners, too."
But there were others who seemed to have taken notice of the barrage of negative attacks on Mr. de Blasio, courtesy of his rivals, who have tried to paint the front-runner as an untrustworthy flip-flopper who will say anything to get votes.
"I don't know if I can trust you," Chelsea resident Dana Deville told Mr. de Blasio, expressing frustration with all of the candidates. "We want a mayor that's going to stand for something."
Ms. Sarandon stepped in, calling attention to Mr. de Blasio's record and explaining that she'd started as a Quinn supporter until learning more about her positions.
Ms. Deville, unconvinced, told Politicker that she, too, began the race as a Quinn supporter–even telling a Quinnipiac pollster she was definitely going to vote for the Speaker–only to be left uneasy about her choice with less than a week before the primary.
But regardless of her vote, she said she was resigning herself to a de Blasio victory.
He's "sort of rising out of the dust," she remarked. "Isn't it freaky, a little? Who would have thought."