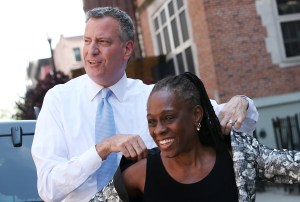 Bill de Blasio is still locked in a heated primary, but the Democratic mayoral front-runner took some time to go after Republican Joe Lhota today.
The issue at hand comes from an Atlanta-based consultant reportedly claiming Mr. Lhota's polling shows "there is still some backlash about the mixed marriage" Mr. de Blasio has with his wife, who is black. The Lhota campaign disputed the account and even denied any knowledge of the consultant, but that didn't stop Mr. de Blasio from blasting away at Mr. Lhota on Rev. Al Sharpton's radio show.
"I did see the Lhota campaign try and distance themselves from it," Mr. de Blasio replied when asked about the report. "I hope that's true. Because I know who Joe Lhota worked for. He worked for Rudy Giuliani; he was the top deputy for Rudy Giuliani when Rudy was dividing this city as a matter of political strategy."
Mr. de Blasio–who worked for Rudy Giuliani's predecessor in the mayor's office, David Dinkins–further warned Mr. Lhota that there would be a price to pay if he made racially divisive attack during the general election.
"I was in both campaigns, serving Mayor Dinkins fighting against Rudy Giuliani. We saw the worst appeals to racial bias and division. I hope–I hope!–Joe Lhota doesn't think he's going to replay that playbook. If he is, he's for in a very rude awakening," he said. "If Lhota or his people … or anyone associated with him tries that, we're going to have a very sharp response. And I think it will backfire."
The Lhota campaign, which did not immediately respond to a request for comment on Mr. de Blasio's own broadside, doesn't seem especially ready to issue this sort of attack, however.
"David Johnson has zero affiliation with our campaign and no one on our campaign has ever heard of him," Lhota spokeswoman Jessica Proud told Politicker in an email. "We never polled that question–or anything remotely close to it–and we never will. Its 100% false."
Making the saga even stranger, Mr. Johnson told Politico that he had been misquoted and sought a correction from The Christian Science Monitor, which ran the original piece. But the piece's author said Mr. Johnson had confirmed the quote.
Update (4:41 p.m.) With Ms. Proud's refutation of Mr. Johnson's reported claim.