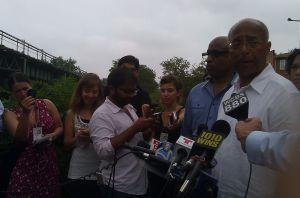 A day after a baby boy was shot to death in his stroller, mayoral candidate Bill Thompson is saying enough is enough.
"There must be a new era of community policing," Mr. Thompson declared at a press conference today, standing solemnly beside his wife, outraged community leaders and grieving residents. They were next to an abandoned lot in the Brownsville neighborhood of Brooklyn, where 1-year-old Antiq Hennis was killed.
"The community needs to step up and say we're not gonna allow this. When something like this happens, the people need to be given up quickly. And, at the same point, I've always talked about the need for a new era of community policing–officers on the ground and in neighborhoods, working closely with the residents. That's how we're going to get guns off the streets," Mr. Thompson continued.
Mr. Thompson once took a more moderate tone on policing issues than some of his electoral rivals and has since been ramping up his rhetoric as the NYPD's stop-and-frisk policy takes center stage in the mayor's race. But Tony Herbert, the president of the Brooklyn East chapter of the National Action Network founded by Rev. Al Sharpton and a potential candidate for the State Senate next year, said he called Mr. Thompson to join him at the press conference because they were old friends, not politics.
In an interview after the event, Mr. Herbert said he had known Mr. Thompson since he was 14 years old living across the street. Now he said he often seeks the former comptroller's advice on deterring crime in Brooklyn. "We've always been able to talk to him even when he was comptroller. And he was able to lend us some guidance," Mr. Herbert explained.
Other politicians were also present today.
Chris Banks, a candidate for City Council who founded the antipoverty group East New York United Concerned Citizens, Inc. said that he often felt immune to the constant violence in his neighborhood.
"I just wish it would stop," he said adding, "Until we kill that mentality, we won't get anywhere."