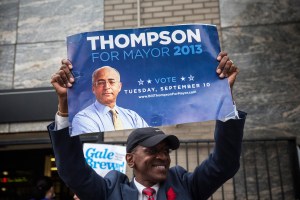 Even Bill Thompson's supporters are now saying publicly that it's time for him to end his campaign and rally behind Bill de Blasio as the Democratic Party's nominee for mayor.
"In an election year with so many tough decisions on crucial issues, we must begin a new chapter today by uniting behind our Democratic nominee for New York City's next mayor," Assemblyman Walter Mosley, a former Thompson endorser, announced in a statement this afternoon. "I am proud to support Public Advocate Bill de Blasio."
Mr. Mosley is joined by State Senator Martin Dilan, Assembly Members Karim Camara, Rafael Espinal, and Council Members Erik Dilan, Ydanis Rodriguez and Jimmy Vacca, according to press statements and a list of support rolled out at a de Blasio rally today.
Some of these officials have close ties to two of Mr. Thompson's biggest supporters. Mr. Mosley is an ally of rising-star Congressman Hakeem Jeffries, and Ms. Rosa and Mr. Rodgriguez are allies of State Senator Adriano Espaillat, a prominent power broker in northern Manhattan's Dominican community.
"Following the public referendum that was Election Day two days ago, we are proud to offer our support and endorsement to our next mayor, Bill de Blasio, the progressive leader who will help stem the tide of economic inequality in New York City," the Espaillat allies said in a statement urging unity to defeat Republican Joe Lhota in the November election.
Political observers are waiting to see if Mr. Thompson, the second-place finisher in Tuesday's primary, stays in the race on the hope that Mr. de Blasio, who currently has 40.3 percent of the vote with 99 percent of precincts reporting, drops below the 40 percent threshold necessary to trigger a runoff when paper ballots are counted next week.
The Thompson campaign did not immediately respond to a request for comment.