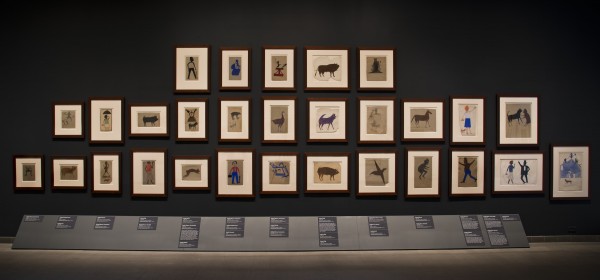 The late African-American artist Bill Traylor is known today thanks to several instances of luck and persistence, which were undoubtedly helped along by the sheer strength of his art. Staggering obstacles stood in the way of both his art and his legacy.
Traylor's break came in 1939, when a talented, young, white artist named Charles Shannon (1914-1996) happened upon him as he drew on slabs of cardboard on Monroe Street, in Montgomery, Ala. Traylor, who was born a slave in 1854, was in his mid-80s. He had recently begun making art, and was producing with prodigious speed, using pencil, crayon and charcoal to create silhouettes of people and animals, often in disturbing, ambiguous, frenetic situations. These scenes from the city and his life evince an eye for character and an ability to extract profound drama from the most quotidian material.
Shannon acquired Traylor's artworks, supplied him with materials and pushed for shows but had little success winning attention for his hero before entering World War II. (MoMA declined to organize an exhibition, and, though curators expressed interest in acquiring works, they balked at Shannon's prices.) In the 1970s, nearly three decades after Traylor's death, Shannon organized the hundreds of drawings he had into representative tranches and moved to sell and donate them to museums, which is the source of some of the material in the traveling exhibition currently at the American Folk Art Museum. Like the show of private-collection work, it is overcrowded, but it's hard to begrudge the organizers—Stacy C. Hollander, the museum's chief curator and director of exhibitions, and Valérie Rousseau, its curator of art of the self-taught and art brut—who clearly, and understandably, wanted to get as much work on the walls as possible.
The pleasures here are numerous. There are sly, wily-looking pigs, fearsome dogs (one with a fire-red tongue is being led by a white man half its height) and dozens of people that are presented with a generous tenderness, whether the goofy drink-swilling and dancing men, an amputee pointing at something off in the distance, fighting couples or a frightening top-hatted man who is balanced atop some sort of construction, barely out of the reach of a ravenous-looking dog.
But Traylor is at his most vertiginously thrilling when he fills his scenes with multiple characters and action. He described these madcap scenes to Shannon as "exciting events." In them, figures in silhouettes toss back bottles, smoke pipes and hammer away on houses or platforms, their proportions all out of whack with the birds they chase and the environments they build and ramble about in. These are at once richly surreal and symbolic visions of a now-vanished America.
Mostly, great art finds its way to light, through mixtures of chance and will: Someone happens upon it, picks it up, saves it—but not always. We're still missing plays by Sophocles, paintings by Vermeer and, as far as we know, hundreds of drawings that Traylor made after Shannon went to war. Examining the trove that has survived, we should shudder thinking about the Traylors that we will never know. (Through Sept. 22)