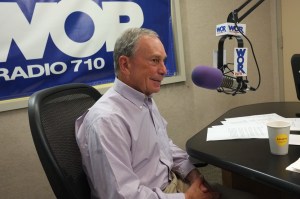 Mayor Michael Bloomberg has an especially grim view of New York City when the Tavern on the Green was one of the most popular restaurants in town.
Speaking on his weekly radio show this morning, Mr. Bloomberg credited the success of Central Park's iconic Tavern on the Green restaurant to the fact that people were too scared to go anywhere else.
"In those days, the streets weren't safe and you couldn't go to most restaurants," explained Mr. Bloomberg, when asked about the restaurant, which is set to re-open later this year as a lower-end eatery.
Mr. Bloomberg went on to explain that the new operation is "gonna be very different from what it was before."
"Today, the streets are safe and there's lots of restaurants so you have to appeal to a different genre of food. And this is gonna be very elegant and fit into the park decor and the kind of food that people today who are in the park want," he explained.
The restaurant, with its famous Crystal Room, went bankrupt in 2009 and has spent much of the period since as a visitor center and gift shop for tourists.