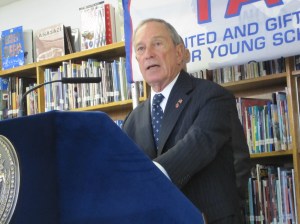 Mayor Michael Bloomberg today refused to explain his recent comment labeling Bill de Blasio's mayoral campaign "racist."
Speaking at since first open-question press conference since New York magazine published the controversial comments ten days ago, Mr. Bloomberg repeatedly insisted he would not talk about the race to succeed him.
"Look, I'm gonna stay out of this race," he said in respond to the first question, which asked what he meant by the remark and whether he thought it played a role in Mr. de Blasio's Democratic primary win.
"As you know, I said I'm not going to endorse anybody. You'll have to talk to the pundits. What I'm here today is to talk about what we've done. And I'm going to leave it as that," he said, attempting to pivot to the topic of the East Harlem event: touting his administration's education record.
Politicker followed up on the "racist," accusation, however, again asking for an explanation of what he meant when he criticized Mr. de Blasio's decision to emphasize his mixed-race family on the campaign trail.
"Look miss, I just said. You want me to repeat it or can you just quote me?" Mr. Bloomberg replied, testily. "I'm just not going to get involved in this campaign. I'm gonna vote. I suggest everybody vote. But um … Yes sir?"
Another reporter noted that, by making those comments he had already inserted himself into the campaign—prompting his press secretary to repeat that he wasn't endorsing anyone. "I just—I said that I wasn't endorsing anybody and I'm gonna stay out of it. I don't understand what words you don't understand," said the mayor.
Later, Mr. Bloomberg rejected the idea that the contest had been a "change" election, with voters wanting a break from his administration.
"Look, we have worked as hard as we can for 12 years. The results are out there. They are public. They are not just touchy-feely. There's real numbers behind most of them," he said. "The vote that matters to me is the vote of people moving into the city versus out for the first time since the 50s … By all of the measures of those who really are on the ground, they say what we've done has been great and I couldn't be more proud of it."
He also insisted that his decision not to endorse had nothing to do with a desire not to hurt his preferred candidate in the November general election—generally thought to be Republican Joe Lhota.
"I just chose to not endorse because I think what the public wants me to do is to work as hard as I can for the next 106 days," he said. "I've got an obligation to make the transition from our administration to whatever the next administration is as seamless and as helpful as possible. And that's what we're going to focus on."