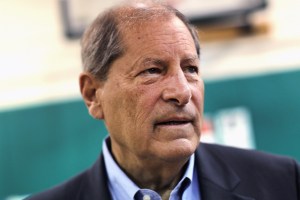 Former Congressman Bob Turner has failed to take over the Queens Republican Party, losing by a larger-than-expected margin to current chairman Phil Ragusa. 
An acrimonious vote on Friday ended with Mr. Ragusa capturing 52 percent of ballots, which are cast by district leaders and state committeemen. Mr. Turner, who had been touted by supporters as the candidate who could finally topple Mr. Ragusa, fell short of expectations, garnering about 48 percent.
"I am honored and humbled by the show of support given to me by Queens County Committee and State Committee members," Mr. Ragusa said in a statement after the election. "I will continue to lead the party honorably and faithfully and will work to unify the party so that the Queens GOP continues to grow and become even stronger in the future."
Mr. Turner's challenge was viewed by insiders as yet another attempt by the disgruntled southern faction of the Queens GOP to unseat Mr. Ragusa. Led by Councilman Eric Ulrich, the faction has tried to knock off Mr. Ragusa before, failing two years ago to install former Councilman Tom Ognibene as chairman.
But Mr. Ragusa's northern faction was able to keep him in power, despite several setbacks this year. Mr. Ragusa's preferred mayoral candidate, John Catsimatidis, fell to their rivals's chosen candidate, Joe Lhota, in the Republican primary. And the bribery scandal that engulfed the party in April led to the arrest and ouster of the GOP's executive vice chairman, Vince Tabone.
The election also crowned a new executive vice chairman: attorney Robert Beltrani. Insiders say that Mr. Ragusa does not plan to lead the party for the long-term and could eventually look to hand over his chairmanship to Mr. Beltrani.
Mr. Turner did not immediately return a request for comment.