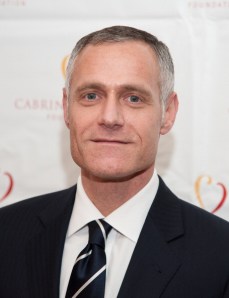 Hey Brett, where's Brooklyn at??
Not in Turtle Bay, that's for sure.
Brooklyn Nets CEO Brett Yormark just got married to Elaina Scotto, and now the newlywed couple has a new apartment: Mr. Yormark picked up the penthouse at The Peregrine, according to city records.
And unlike newly-elevated Forest City Ratner head honcho MaryAnne Gilmartin, who had the good PR sense to invest in the borough that brung her, Mr. Yormark isn't quite willing to hop the river and slum it in the borough of Kings. His new abode is at 303 East 49th Street, a 1980s sliver building of the highest order just off of Second Avenue and wedged between a bunch of diplomatic missions to the United Nations. (Not quite as fancy as Bruce Ratner's townhouse at 128 East 62nd Street.)
His new home is a rather impressive triplex apartment, boasting four bedrooms and 3.5 baths. "This particular unit was quite unique," Douglas Elliman broker Rachel Altschuler told The Observer. (Ms. Altschuler shared the listing with Mark Cisneros at Bona Tierra; Mr. Yormark's relative, Jonathan Cohen at Town Residential, represented the buyer side of the transaction, and was none too pleased to hear from us.)
"The terrace is two balconies" on the top level, Ms. Altschuler told us, along with another two on the lower levels. The apartment has an interesting layout, with the kitchen/dining/living rooms on the middle level, sandwiched between the two bedroom levels.
Mr. Yormark seems to have gotten a good deal on the unit, too. It was listed as recently as last year for nearly $4.5 million, before the ask was knocked down to a bit under $4 million. Ultimately, though, Mr. Yormark walked away paying just $3.45 million to Nishat Doshi for the 2,900-square-foot manor in the sky.
And since the Barclays Center has gone to great lengths to ensure that patrons arrive at the arena by mass transit, we're sure we'll be seeing you on the 4/5/6 train on game nights, right Brett? Or crossing the Brooklyn Bridge on bike? (hey, if Beyonce can do it).