While New York Fashion Week often leaves much to be desired in terms of couture, which is why Shindigger typically holds out for the catwalks of Milan and Paris, there were some hits this year, like the Alexander Wang women's collection, Jason Wu's sultry beige and gold numbers, and Billy Reid's menswear. But even when the runway shows truly flop, the Fashion Week parties make up for our disinterest.
The first memorable event this year was the Daily Front Row's inaugural Fashion Media Awards, which honored Heidi Klum, Joe Zee and Stephen Gan at swanky eatery Harlow. Jessica Biel turned up to give Mr. Zee his award, while Lady Gaga made a surprise appearance to bestow the Fashion Magazine of the Year distinction to her pal Mr. Gan, founder of V magazine.
"It's my favorite magazine, if that means anything," the superstar said after taking off her sunglasses and adjusting her massive blown-out hair.
Shindigger grabbed a much-needed third glass of cabernet, as Ms. Gaga engaged in a long-winded tribute. "Sometimes I think we're stuck in an art ghetto and we can't get out," she said, before handing Mr. Gan the goods.
After the ceremony, guests mingled with model-hostess Frida Gustavsson and other notables such as Marc Jacobs and Martha Stewart, although many, like designer Marissa Webb, still had Gaga on the brain.
"I'm obsessed with her hair. I want it!" she yelled. "I want bigger hair! The bigger the better."
Ms. Webb, formerly a J. Crew designer, had presented her first runway collection at Lincoln Center the day before, but there hadn't been much time to celebrate.
"I'm a workaholic," Ms. Webb admitted.
"For the designers and their staff, Fashion Week is something to survive," explained Drew Beaver of NJOY e-cigarettes, which had partnered with a range of designers like Charlotte Ronson, Prabal Gurung and Duckie Brown. "While we're running around partying and feeling glamorous, they are working their butts off."
To investigate, we snuck backstage with Steven Cox, co-designer of Duckie Brown, after his show.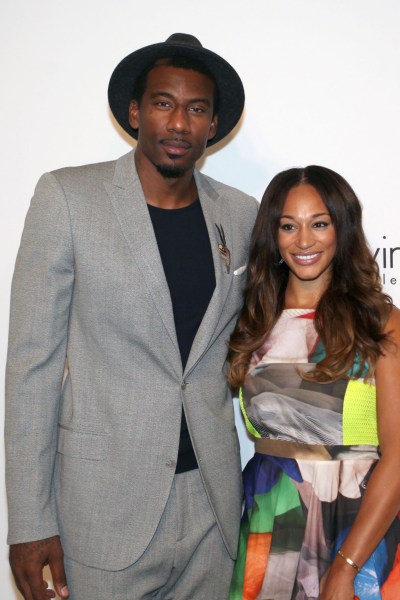 "You're rather popular," we cooed, finding him thronged by lanky male models.
"Isn't that great?" he enthused after another kiss-kiss to a German one. Shindigger asked Mr. Cox what he thought about the invasion of e-cigarettes.
"I like real cigarettes," he said. "I smoke Marlboro Lights, but I guess they'll replace them."
Since Shindigger doesn't smoke, we stuck to our preferred vice, booze, which we consumed copious amounts of while cramming in as many social events as possible.
Rihanna seemed to have the same plan. Shindigger bumped into the songstress multiple times over the next few days—first at South Street Seaport, where Mr. Wang threw an epic after-party, and then again at the Opening Ceremony show. Justin Bieber and Baz Luhrmann also turned up for that boozy affair, which was held at the Pier 57 development (or SuperPier, as the fashion crowd has coined it).
After a motorcade of Ferraris, Lamborghinis, Range Rovers and Mercedes deposited models by the runway, the fashion cognoscenti raced to the open bar. Shindigger's entourage explored the various food stalls and concept shops.
"What are those?" we asked a man behind a swag table.
"Tenga masturbators—the packaging is inspired by the collection!" he yelled over the ruckus.
Flabbergasted (but intrigued), we grabbed two.
"Give one to Rihanna," an inebriated reveler cried.
Shindigger decided against handing the entertainer a sex toy, although our cohort, William Buckley, was feeling a bit more frisky.
"Here," he said hoisting a frank from the Asia Dog stall. "Would you like one?
"That's O.K.," the pop star responded. "I'm good."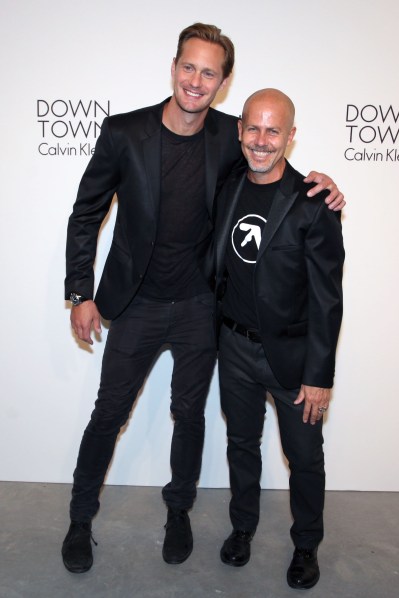 At the Carolina Herrera show, we sipped sparkling wine while chatting with O magazine Creative Director Adam Glassman in American Express' Skybox. Last Tuesday, we zipped from Wes Gordon to Dennis Basso, while downing baby bottles of Freixenet. The crème de la crème of Champagne graced our lips on Wednesday evening at the splashy unveiling of the Dom Pérignon limited edition, designed by Jeff Koons.
While we took a break from bubbly the next night to nurse a few glasses of Macallan, Champagne returned to our lips at the close of Fashion Week, when we joined Calvin Klein Collection to toast the last 10 years of work by Creative Director Francisco Costa—and the début of its new fragrance.
Attendees guzzled Veuve Clicquot as Pharrell Williams indulged them with renditions of "Blurred Lines" and "Get Lucky." Nicole Kidman, Drake, Rooney Mara and Leonardo DiCaprio, enjoying what appeared to be an e-cigarette, sought protection in a giant VIP booth.
"What's your drink? It's got mint in it," Shindigger asked Fashion Police co-host George Kotsiopoulos, who we had also spotted at Opening Ceremony. "No Veuve?"
We were shocked.
"It's a vodka soda!" he screeched over the music. "The humidity should just get the hell out of here."
He wiped his brow and took a sip.
"My hair looks like yours!" he added.
Though he hadn't quite reached Afro level, we chuckled.
"Will we see you in Milan or Paris?" we asked.
"No, I can't because it's the Emmys," he replied, alluding to his red-carpet responsibilities.
Before we let him scurry away, Shindigger refilled our crystal flute and asked him one more question: "What is it honestly like working with Joan Rivers?"
"I'm shocked every single week. I have no idea what she's gonna say," he giggled. "I love when her jokes involve vaginas and bukkake. I mean, are you kidding me?"