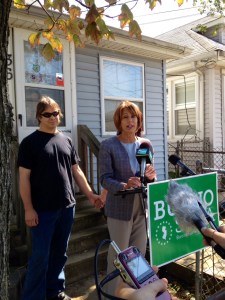 KEANSBURG – Democratic gubernatorial candidate Barbara Buono stood outside of a shore home Friday whose residents have yet to return since Superstorm Sandy wreaked havoc on their neighborhood.
Elena Pagonis and Joe McLaughlin have owned their home for the past five years, but the couple of about 17 years hasn't lived at the residence in nearly 12 months. They continue to pay taxes and a mortgage on their house, but when Sandy barreled through the neighborhood it left their mostly single-story home under two feet of water and has forced them to stay with relatives ever since.
"We waded through five feet of water and discovered our house was destroyed," said an exacerbated Pagonis, telling reporters she's hit a roadblock with receiving state aid and said reconstruction has been at a standstill.
"I just can't sit and wait, and wait and wait," she said. "I would expect my governor to come forth and help me."
The state lawmaker and gubernatorial hopeful came to the shore community to highlight Gov. Chris Christie's "mismanagement and bungling" of the state's storm recovery program.
"There's a whole other Jersey that needs to be rebuilt," Buono said. "The level of frustration is building [and] it's at a boiling point."
The couple reached out to the gubernatorial hopeful after contacting Christie's office to no avail, Pagonis said.
"All they've asked is for their governor to stand up for them," Buono said. "The governor needs to use the bully pulpit for a good reason."
The campaign event comes as Buono trails in the polls that also show a majority of New Jersey residents approve of the way Christie handled the storm recovery.
Ahead of Buono's appearance in Keansburg, which came after a stop at a shore home in Little Egg Township, Christie's campaign issued a statement decrying the candidate for her "callous politicization" of the Sandy recovery.
"At every step, Governor Christie has been there for the families and businesses of Little Egg Harbor Township – fighting for the relief we need and delivering it quickly and effectively," said Assemblyman Brian Rumpf, Little Egg Harbor's GOP representative in the General Assembly, in a statement.
"So for Barbara Buono to come to our town to campaign on the backs of our residents who remain in need is not only a callous political move, it is wildly disrespectful to the bipartisan work we have accomplished together, even with the sniping of self-interested politicians like Barbara Buono," he said.
Keansburg Mayor Arthur Boden also weighed in.
"Governor Christie has undeniably been a responsive, strong leader for storm survivors up and down the state and here in Keansburg, securing federal relief and delivering it in a quick and transparent manner and continuing to help those who are still in need," Boden said in a release.
"We all know there is more work to do for our families, but it's sad to see Barbara Buono turning those recovery efforts that have brought our state together into campaign stops for political point scoring. Though her campaign is clearly struggling, I hope she would make the time to find out about the incredible progress actually being made under the Governor's leadership, as well as the transparent, accountable way he has delivered that aid for taxpayers."
When asked directly about the campaign's criticism, Buono snapped, exclaiming the governor "doesn't even get how insulting" such a statement is for families who are still struggling.
"I want him to say that to the people that are standing here that have been out of their home for almost a year. You tell them that I'm being political," Buono said. "You tell the people that I saw this morning who are in tears because they are afraid to leave their homes because they're getting looted. You tell me that's political. It just shows how out of touch this governor and his allies are, to say that is just a new low. He doesn't even get it."