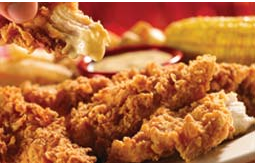 Look, when we're at Chili's (Grill & Bar), we don't need anything more to tingle our senses. Listening to the hisses emitted from steak fajita platter while hearing the faint rattles of the ice cubes clacking against the plastic margarita shaker is enough to force us into an unbridled sweat of excitement.
Now the chain is enticing our overloaded senses with tabletop tablets that give customers an option to pay, order and play games while waiting for their Crispy Honey-Chipotle Chicken Crispers to land in their mouths. Around 800 company-owned restaurants will receive the generic iPad next year.
Nation's Restaurant News (sure!) reports that the seven-inch Ziosk devices are not only a ploy to get customer excited about the brave restaurant brand, but also to get customers to spend even more money.
The tablets have a lot of the same features a phone has, like games and news, but Chili's discovered that people ordered more food and booze on the tablets because they didn't need to wait for a sluggish waiters to swing by. A table's average check increased by double-digits because people were tempted by the desserts show on the screen.
Chili's VP of Marketing Edithann Ramey told the trade pub that customers "can control their own destiny" with the device.
Ah yes, the destiny of heartburn and a bloated face without having to leave our booth is something we've all dreamed of.