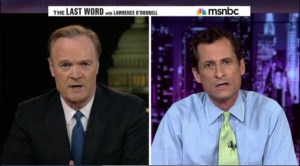 In an epic interview that will likely go down in campaign history, MSNBC's Lawrence O'Donnell tried to psychoanalyze Anthony Weiner last night–and things did not go well.
Appearing in his last television interview before the polls open Tuesday morning, the long-shot mayoral candidate was asked a single stinging question by Mr. O'Donnell.
"I have really just one basic question for you that I think a lot people have wondered about for different reasons over the course of the campaign," the host began. "What is wrong with you?"
Mr. Weiner at first seemed dumbfounded, saying, "I don't understand the question." But Mr. O'Donnell pressed. "What is wrong with you that you cannot seem to imagine a life without elective office?" he asked.
The conversation quickly devolved into a heated sparring match somewhere on the spectrum between breakdown and take-down, as Mr. Weiner grew increasingly agitated and Mr. O'Donnell continued to dig in his heels.
"Is there a question that I could possibly help you out with?" quipped Mr. Weiner. "Chillax, buddy! Just dial it down a second," he later said.
But Mr. O'Donnell refused to let up.
"Anthony, I think there is something wrong with you … I mean it from a psychiatric level … You are being driven by some kind of demons in some strange directions," he said.
And with that, Mr. O'Donnell noticed he was running out of time and invited Mr. Weiner to stick around for an additional segment, prompting Mr. Weiner to break into a maniacal laugh.
"Yeah, like that's going to happen!" he said sarcastically. "Thank you, good night Lawrence!"
But he did, and by the end, Mr. Weiner concluded, "Maybe I'll come on this show and kick your ass every night, like I'm doing tonight."
Watch both segments below:

<