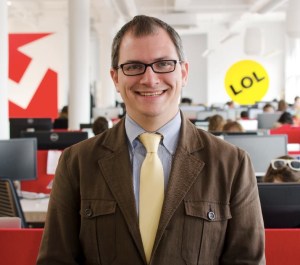 BuzzFeed is adding a legal editor.
Chris Geidner, who has written about legal issues as a senior politics reporter for the viral news site since 2012 and been especially active in covering the push for marriage equality, has been promoted to the newly-created position.  
"Chris Geidner, who was the top reporter in the country covering the marriage story over the past few years, is moving into an exciting new role: he'll be our legal editor, focusing on criminal justice and election law, as well as some LGBT issues," BuzzFeed editor in chief Ben Smith said.
Even before going to BuzzFeed, Mr. Geidner was well known for his coverage of LGBT issues and got the Andrew Sullivan stamp of approval.
The Dish blogger called Mr. Geidner
"one of the best gay reporters out there" when he was hired at BuzzFeed.
"In covering the progress of the marriage cases decided at the Supreme Court this June, I saw the sharp, informed way social media took in and shared each development and moment that BuzzFeed's team presented, whether it came from lawyers arguing before the justices or a couple waiting to hear the news outside the court," Mr. Geidner said. "That experience left me with the view that we can expand the way we view all legal news: keeping it smart and timely, but also presenting coverage in a way that connects with people and leaves them wanting to discuss and share stories about these issues — from criminal justice to election law issues and beyond."
But, according to Mr. Smith, discussing legal issues and "beyond" does not mean that the site will stint on LGBT coverage.
"With this shift, I want to make clear that we're keeping and intensifying our commitment — which I think is a real advantage over some of the competition — to cover LGBT stories as front-line news, with more exciting announcements in that department to come," Mr. Smith said.