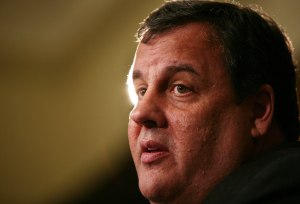 Townhall.com has released its list of the 25 most influential people on the right and while the list is a who's who of conservative power, there is one name that is notably absent.
Gov. Chris Christie was not included on the list of 25 published by the influential conservative news outlet, nor was he given even runner-up status.
Christie's absence from the list speaks to his standing among the GOP's right flank, which could pose a problem for the governor if, as widely speculated, he runs for president in 2016.
Among the early front-runners for that race are Christie, Kentucky Sen. Rand Paul, Florida Sen. Marco Rubio, Wisconsin Gov. Scott Walker and Texas Sen. Ted Cruz, among others. In fact, a recent poll put Christie at the top of that list, with U.S. Rep. Paul Ryan second and Paul of Kentucky third.
But while Christie led the field, just 8 percent of respondents who identified themselves as conservative favored the New Jersey governor, well below the likes of Rubio and Paul, who are both on the Townhall list – as are Cruz and Walker.
The debate has long raged over Christie's place in the party and appearances like those he's made with President Obama have not helped the governor's standing on the right. His chumminess with the president, on display at the Jersey shore just days before Obama won his re-election bid, has not yet been forgotten by many in the GOP.
But many Democrats, as well as some in the media, have argued that Christie is not a moderate as he portrays himself, but instead he's a conservative hardliner masquerading as a uniter for political expedience.
But it would seem that conservatives, or at least those who read Townhall, disagree.
"Chris Christie is only 'right' in the New Jersey context," said University of Virginia Political Science Professor Larry Sabato. "Within the Republican party there is no real doubt Christie is a moderate or moderate-conservative. The Townhall ratings are just one more confirmation of that. Christie's hopes in 2016 rest on a split GOP field with lots of conservatives. Otherwise, the Republicans would have to shift as a party ideologically to the middle. While stranger things have happened in history, it is hard to see how this occurs. Some say Christie can use tough talk on national security to mask his more moderate views, but party activists can walk and chew gum simultaneously. They have a check list, and they may like Christie on national security but many domestic and social issues? Not so much."
The issue of Christie's partisanship is likely to come to a head when and if the governor faces off in the 2016 primary. There are those in the GOP who believe the time has come to fold inward in the primary and nominate a conservative, rather than try to pick the most "electable" candidate. By sticking to conservative beliefs, the argument holds, the Republican base will come out in force.
Others in the more moderate wing of the party believe the likes of Walker and Paul are too hard-line for the average American and the party would be well served to find a more moderate candidate to take on the Democratic nominee – potentially Hillary Clinton.
While Christie, who has a record of at least compromise, if not bi-partisanship, in the state could appeal to more moderate voters, Cruz, Rubio, Paul and Walker all will likely find more love among the conservative base.