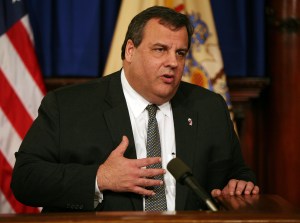 BEACH HAVEN – Comments Sen. Barbara Buono made that Gov. Chris Christie said were not-so-thinly veiled remarks about his weight give an indication of what type of governor she would be if elected, Christie said Wednesday.
In responding to a video that contained remarks by Buono that seeing Christie frolic on the beach did not inspire her to visit the Jersey Shore, Christie reiterated today that her comments were beneath someone who wants to be governor.
"I'm not the least bit angry,'' Christie said today after attending the reopening of a storm-wracked school here. "I just thought, I just think it's unfortunate that somebody whose putting themselves forward for governor of New Jersey would make disparaging comments about someone's physical appearance."
"They denied that is what she meant,'' Christie said. But he said that four years ago when Gov. Corzine's campaign took a similar tactic it was denied then as well that his weight was being targeted.
"It tells us a lot about that person,'' Christie said.
"Buono was getting a good laugh in a back yard with a federation of democratic women, 'wink wink nod nod ,' like we don't know exactly what that meant," he said in reference to her camp's attempt to say the remarks were not about his weight.
"I'm not worried about nuance, you are not going to have to wonder about what I think," he said by way of contrast between himself and Buono. "The fact there is confusion (about the remarks) tells you what kind of leader she will be."
He said there is a difference between Buono's comments and remarks such as the ones he recently made about a sports writer covering the N.Y. Jets. Christie said he does not see what relevance his weight has to what he does as governor.
He said he continues to work to get into better shape, and is in better shape than he was six months ago, which is roughly when he underwent lap band surgery.
At first when questioned about this on Tuesday, Buono said she was not going to dignify Christie's remarks with a comment, but she did reiterate her position that Christie had no business making himself the star of ads whose purpose was to get people to return and patronize Shore businesses.