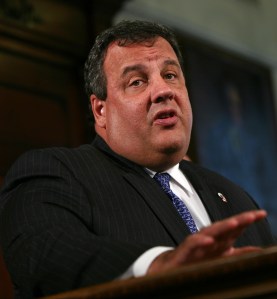 NEWARK – A stump speech video that surfaced on the web in which Gov. Chris Christie's gubernatorial challenger poked fun at the incumbent's weight brought a familiar topic to the first day of the unofficial start of the campaign season.
Christie criticized his Democratic challenger Tuesday after being asked to comment on a video of Sen. Barbara Buono joking with supporters saying that, for her, "seeing Chris Christie frolicking on the beach is not going to drive [her] to the shore."
Buono was criticizing Christie in the speech for being an opportunist, saying that, among other things, the governor spent "$2 million additional dollars on an ad campaign that features [him] at the Jersey Shore" instead of saving taxpayer dollars.
The apparent snub from Buono gave way to laughs from the crowd in the video, but not from Christie.
"I think that it is unfortunate that Sen. Buono has decided to go down the same path as Gov. Corzine did in making comments derisively about my physical appearance," Christie said at a news conference in Newark.
"You know, she was on Chris Matthews' show months ago and he asked her flat out if she would refuse to run the same type of ads that Gov. Corzine did four years ago when he said I was 'throwing my weight around' and she refused to answer that question, and now I think we know why," he said. "The fact that someone running for governor would make derisive comments about someone's physical appearance, I think, is really beneath the office that she's seeking and I'm disappointed that she did it."
The governor went on to say he was not surprised to see Buono's been "playing out of the Corzine playbook in that way and many other ways."
Christie's predecessor took some heat when his campaign released the ad that put Christie's weight in the spotlight.
The recent video was posted to YouTube six days ago and it's unclear whether it has any official connection to the Buono campaign. The state lawmaker was speaking before the New Jersey Federation of Democratic Women, according to a banner seen over her shoulder.
Buono's campaign shot back at the governor Tuesday and criticized him for steering the conversation to his weight when the real focus should be storm recovery, said campaign spokesman David Turner.
"Now, as businesses question the effectiveness of the campaign, he says that anyone who dares to question him is somehow attacking his weight," Turner said in a statement. "It's time for the governor to toughen up and face the facts: his bluster and self-promotion have left business owners and residents across the state with one of the worst economies in the nation."