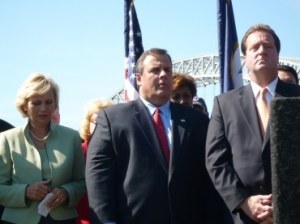 Gov. Chris Christie's scheduled campaign appearance in Bayonne this morning has local politicos unavoidably absorbing the impact of a brash slap by the governor at a political alliance between local leadership and Christie's opponent in the governor's race.
A maritime blue collar jam up of pizza parlors and diners at the southern end of the Hudson County Peninsula, Bayonne is also the home of local Mayor Mark Smith.
The former chairman of the Hudson County Democratic Organization (HCDO), Smith's up for re-election next year.
He's smarting politically right now beyond the dimensions of his home town, having pulled off the unique feat of crossing both U.S. Sen. Bob Menendez (D-NJ) and Essex County Executive Joe DiVincenzo, the latter an energized Christie supporter.
Smith backed the re-election of Jersey City Mayor Jerry Healy, who in May went down in epic fashion to Steve Fulop.
Fulop is an interesting political case right now.
A Democrat, he's staying neutral in the governor's race
So is Hoboken Mayor Dawn Zimmer. Others, including Union City Mayor Brian P. Stack, Secaucus Mayor Michael Gonnelli and Harrison Mayor Ray McDonough, are staunch public backers of the governor's.
Smith backs Christie's opponent, state Sen. Barbara Buono (D-18).
He's one of the few standing ardent Buono supporters.
So Christie plans to make pit stops at some of Smith's favorite haunts, including the Big Apple, a sports bar owned and operated by a Bayonne fireman and a clutch of other staples, a famed pizza joint among them.
Christie never notified Smith.
He's simply dropping into town, at the head of a caravan heavy on psychological warfare optics.
The mayor found out from the owner that the governor would be there this morning.
Christie's polling well in Bayonne, better than expected – and that from sources in Hudson and out of Hudson.
"He's probably polling well in North Bergen," a source groaned to PolitickerNJ.com from the northern reaches of the county, feeling the concussion of Christie landing in Bayonne on the other end of Democratic territory voraciously sought by this incumbent Republican.
There's an added thumb in the eye of Team Smith by Christie.
Bayonne is also the home of Assemblyman Jason O'Donnell (D-31), who was Buono's choice to be state chairman, a selection derailed by other Democrats worried about a fireman with a bullhorn screaming about pension and benefits reform from a statewide pulpit.
The campaign strategy of most split district incumbent Democrats is to highlight how their constituents have benefited from bipartisan relations between Christie and themselves rather than oppose the popular incumbent governor.
Christie's appearance in Bayonne – and he's done several of them, including town halls and press appearances at the Bayonne Bridge – pushes the battle to the heart of a last standing clutch of Buono allies, Smith and O'Donnell at the center of them.