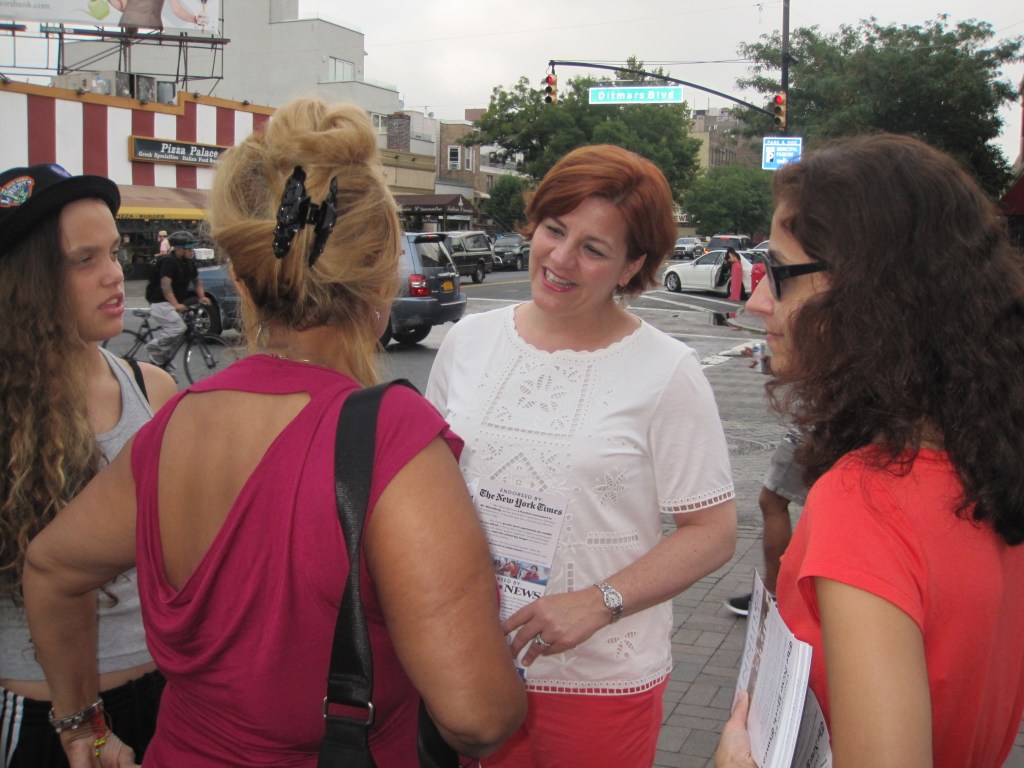 According to recent polls, former mayoral front-runner Christine Quinn is in trouble. Some now have her in third place–trailing Public Advocate Bill de Blasio by as many as 15-points–and even ardent supporters seem genuinely concerned that she might not make the expected runoff following next Tuesday's primary.
But Ms. Quinn on Monday seemed as confident as ever as she campaigned in Astoria, Queens, following the West Indian Day Parade. Dressed in bright pink pants, a t-shirt and sandals, Ms. Quinn greeted excited voters in the immigrant-heavy neighborhood who repeatedly assured the candidate she'd do just fine.
"You're prettier than on TV! Oh my God! Thank you so much!" said Tina Maria Revelo, 45, who started jumping up and down after getting her picture taken with Ms. Quinn, who is running to become the city's first female and openly gay mayor.
"My god! I'm so happy I got to meet her! … I just love it!" she told Politicker, sounding more like a fan meeting a teen heartthrob than a middle-aged woman meeting the City Council Speaker.
"This is the winner!" agreed Cecilia Martinaek, 58, who lives in the neighborhood and also gushed over Ms. Quinn, praising her as a "strong woman" who would run the city differently.
"Women, they can do things. They're better than boys!" Ms. Martinaek declared, assuring doubters that Ms. Quinn will emerge victorious "because always when I give my vote, this is the [one who's] going to win!"
For Ms. Quinn, the next seven days are the equivalent of political life or death. Either she's able to solidify her support among her base of woman, Latinos and more moderate Democratic voters and get them out to the polls, or she validates her critics who have long accused her of underestimating the damage from extending term limits in 2009 and maintaining a close relationship with a polarizing mayor. Even the best case scenario appears to be a second-place shot in the runoff, where polls show her chances in a one-on-one against either Mr. de Blasio or former Comptroller Bill Thompson similarly daunting.
But Ms. Quinn, as cheerful as ever, brushed off the polls yesterday as little concern.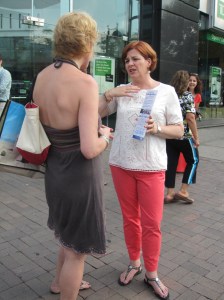 "To me, the response I've gotten here, the response I got yesterday on the Upper West Side, the response I got at pools in Northeast Queens on Saturday has been great–particularly terrific from women and young girls. And it's just further evidence to me that we are fightin' our way into this primary, we're gonna get into the runoff and we're going to win this runoff,' she told Politicker Monday evening.
"With all of the endorsements we've received, the wind is now at our back," she added, further dismissing the polls. "As we've seen, last mayoral race and the presidential election, these public polls are not an accurate reflection of where voters really are."
And on Ditmars Boulevard, at least, the energy was high, as Ms. Quinn waved, passed out palm cards and repeatedly greeted passersby with a big, "HELLO!"
"Hang in," one man told her as he passed by. "Good luck," said others. "You've got my vote!"
"Just don't use it to pick up the poop!" she joked to one pooch owner she'd just given a flier.
Among those most eager to greet Ms. Quinn was Kara Olsen, 28, who lives in Yorkville, and said the legislative leader had been her choice candidate ever since she read an article focused on Ms. Quinn occasionally fiery temper, which struck Ms. Olsen as refreshingly "honest.
"I appreciate somebody who can, you know, put all their feathers out there and doesn't mind getting them ruffled," she said.
And while recent polls show likely Democratic voters largely frustrated with Mayor Michael Bloomberg's tenure, several in Astoria pointed to Ms. Quinn's close relationship with Mr. Bloomberg as a definite plus.
"We think the best we could have is Bloomberg for another year. Oh God, we wish we could have Bloomberg again! And next best thing is Quinn, who's worked with him," said Daniel Reton, 50, who described Ms. Quinn as "the most reasonable, pragmatic, sensible person of the bunch."
He eagerly introduced Ms. Quinn as a role model to his daughter, Athena, 6, and son, Alexander, 7–who promptly declared their own desires to be the city's next mayor instead.
"Take a picture! This is my opponent in four years!" Ms. Quinn urged Politicker. "It's going to be a tough re-election!" She offered both high-fives.
Still, there were obvious signs of hostility.
"Quinn sucks! Bill de Blasio!" screamed one man at Ms. Quinn's staffers from the across the street before the candidate had arrived.
"She's not going to win! No one's gonna support her agenda … It's a Bloomberg baby thing," scolded another man who refused to give his name.
And then there was Max Kovins, 54,  who stopped to complain about Ms. Quinn's grammar, chastising her for saying "I tomorrow will" instead of "tomorrow I will" during the last televised debate.
"Believe it or not, that's honestly the reason–believe it or not–that I'm not voting for you," explained Mr. Kovins. "I think it's important that children listen to people that are in power that speak with correct English."
But Ms. Quinn–being Ms. Quinn–quickly tried to negotiate and strike a deal.
"Watch tomorrow, and if my grammar's O.K. tomorrow, give me a second thought," she asked, referring to tonight's final Democratic debate.
"That's a deal," he agreed without hesitation.