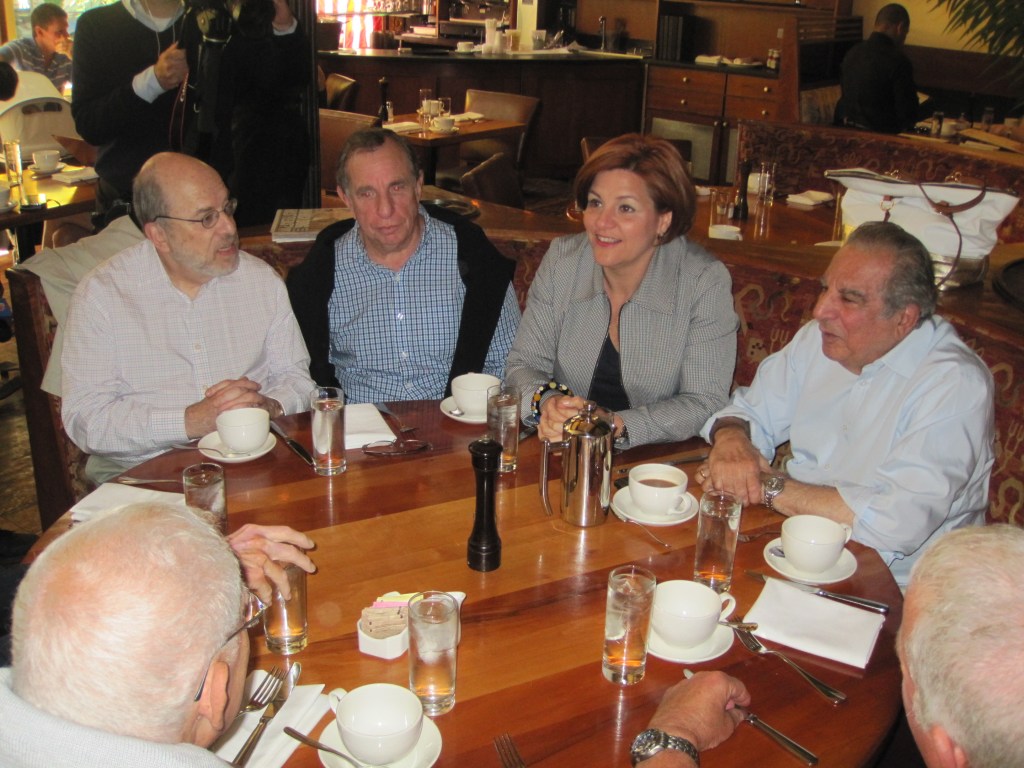 Before he died in February, Ed Koch made it clear: He wanted Christine Quinn to be the city's next mayor.
And while he didn't get the chance to campaign by her side, his old friends tried to do the next best thing with an invitation to join them for Mr. Koch's weekly luncheon club–a tradition that dates back to the 1960s.
"This group of gentlemen–and perhaps a few others–used to have lunch just about every Saturday with Ed Koch," explained Ms. Quinn, as she sat around the circular wooden table at the upscale City Hall Restaurant in Lower Manhattan, a frequent spot for political fund-raisers and events.
Mr. Quinn, whose once front-running campaign is now struggling to make it to the expected runoff, recalled one of her last conversations with Mr. Koch, while he was in the hospital. "I called him Wednesday, the day before he passed away. And even on the day before he died, I heard him bark–and I don't remember if I heard him say to [John] LoCisero or [George] Arzt–but I heard, 'Get me Quinn's record! We need to put out statement!' And then boom, he hung up the phone, and I think was back to work."
"He wanted a list of things that he could do for Chris Quinn," chimed Mr. Arzt, Mr. Koch's longtime friend and former spokesman.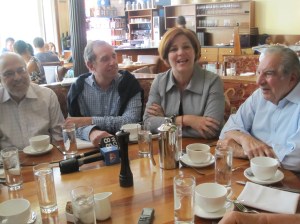 Ms. Quinn said that Mr. Koch, whose larger-than-life personality set the bar for city mayors, would have been a huge asset to the campaign–at least in terms of entertainment. "I know that had he been around, this campaign would've been a lot more fun … It certainly would add a lot more laughs," she said, later noting how much she would have loved to have seen Mr. Koch and her wise-cracking dad, Larry Quinn, campaigning together at seniors centers.
"That would have been a hoot!" she exclaimed.
"Or for them to do an ad," suggested Mr. Arzt.
"That would have been a good commercial–the two of them," echoed Ms. Quinn, who said the two had become close in their golden years. "Mayor Koch would probably hate me using this word, but they had a cute little friendship, the two of them."
"He would have hated you using that!" agreed Herb Berman, the City Council's former finance committee chair.
Asked if she thought her campaign might be doing better if Mr. Koch was on the trail, she said she thought it would. "I think everything would be better, quite frankly, if we had his words of wisdom and his personality and his energy out there," she said.
"Except the traffic on that bridge!" chimed in attorney Arnold Kriss, a former deputy police commissioner, referring to the Ed Koch-Queensboro Bridge, which was named in his honor.
"Except him standing there, blockin' traffic comin' off his bridge screaming at people!" she joked, referring to a parody video Mr. Koch filmed where he repeatedly declared, "Welcome to my bridge!"
Later, Politicker asked the veteran political wise men why Ms. Quinn was having so much trouble in the polls.
"I don't believe in polls," said Mr. Kriss. "Today is Saturday. Between Saturday and Tuesday is a whole world away from what's going to happen."
"I think there are ups-and downs in every campaign. And we all know it. We've all been there" said Mr. Arzt. "You just gotta go straight ahead and hope you're resilient enough to bounce back."