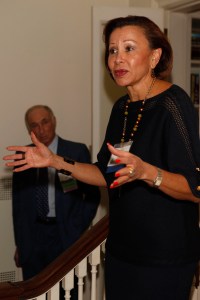 Members of New York City's Congressional delegation, long relegated to the sidelines of local politics, are increasingly filling the void left by the declining influence of political party apparatchiks.
Nowhere is this more apparent than in Brooklyn, home to Democratic mayoral hopeful Bill de Blasio and his GOP rival Joe Lhota, as well as public advocate runoff contenders Letitia James and Daniel Squadron. The latest trend from the borough of hipsters, Hasidim and Caribbean homelands is the toppling of incumbents with the help of U.S. Representatives Hakeem Jeffries and Nydia Velázquez.
Among the targets of their efforts was an incumbent district attorney, Joe Hynes, the first sitting district attorney to be unseated in decades, disgraced ex-Brooklyn political boss Vito Lopez, who had been seeking a comeback in a district dominated by his social services empire, and Sara Gonzalez, the only incumbent City Council member in the city to lose a primary.
All of the winners took advantage of the general changing mood of the electorate, flaws in their opponents' performances over time, as well as changing demographics. But having the cover of congressional sponsors also allowed the challengers to attract a mix of editorial and institutional support–particularly from politically active progressive unions–that would not normally be available to insurgents. That support, together with grassroots and personal campaigning, put them over the top.
Members of Congress generally tend to their own knitting, building influence in Washington and meeting constituent needs as best as they can. This is especially true given the risk of retribution from state legislative leaders who control the drawing of future district lines. Better to be telling a story of using seniority to help the state or strong local support to ward off mischief than having to explain to the Albany powers why there were boats to be rocked. The last such districting exercise was concluded just a year ago, and a decade remains to consolidate power and make amends.
Some members carefully curate the local farm teams from which potential challengers and successors might arise. Among these are Carolyn Maloney and Jerry Nadler from Manhattan and Mr. Jeffries' predecessor, Edolphus Towns from Brooklyn. In some cases, they wind up casting a larger presence. Charles Rangel, dean of the city's congressional delegation, has nurtured a generation of local officials who have gone on to prominence, including former Governor David Paterson and current State Democratic leader and Assembly Housing Committee Chair Keith Wright. Queens's Joe Crowley, an increasingly important figure in the Democratic congressional leadership in Washington, is also considered the most influential county party leader in the city.
The primary results were a mixed bag for most of the representatives who chose to be active. Few supported Bill de Blasio in the mayor's race (Brooklyn's Yvette Clark being one of the exceptions), who was in some ways the symbolic insurgent against more establishment-friendly candidates. They had better success helping Scott Stringer beat back Eliot Spitzer's return to politics and installing allies in the three Democratic-leaning open borough president slots.
What Mr. Jeffries and Ms. Velázquez did was in an elevated class. For Mr. Jeffries, still in his freshman term, the big bets he made were risky. Backing a challenger to an official with subpoena power, such as a district attorney, is never undertaken lightly, even for an old friend such as Ken Thompson. But this was not Mr. Jeffries's first stand-out play. Just a year ago, he announced his intent to run for Congress even before Mr. Towns had announced whether he was ready to retire. As payback, Mr. Towns endorsed Charles Barron, who had challenged him two years earlier, after throwing in the towel in that race.
Veteran representative Ms. Velázquez was in a slightly different position. She herself had recently fought back a challenge fostered by allies of then-Brooklyn boss Vito Lopez, in part by forging an alliance with Councilwoman Diana Reyna, Mr. Lopez's former chief of staff-turned-rival.
Insurgencies are generally considered bad form because they unsettle the political karma. In this case, what came around from Mr. Lopez did in fact go around as the pair's combined operation, honed in self defense, was able to topple his ally, Councilwoman Sara Gonzalez, as well as prevent Mr. Lopez himself from making a comeback after his resignation from the Assembly in a sexual harassment scandal.
This was an election where voters confronted choices about the direction they wanted a new government to go. Efforts by left-leaning unions and community organizations helped Mr. de Blasio channel voter discontent and Bloomberg fatigue around a populist agenda, using stop-and-frisk and hospital closings as surrogates for a tax-the-rich economic policy. At the same time, Jobs for New York, the pro-growth political action committee created by the Real Estate Board of New York and certain industry-related unions, made a point of letting the political class know that they could not veer too far from the center without fear of retribution.
But it was also an election that the county leaders could not control. There is no doubt that a 202 number from Capitol Hill is no longer a long distance call.
Ken Fisher was a Member of the New York City Council from 1991-2001 (D-Brooklyn). He is a partner at Cozen O'Connor and hosts CityWide, a monthly public affairs television program on CUNY-TV.