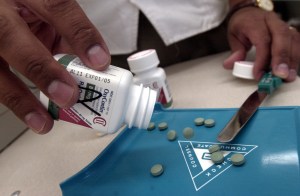 After controversially barring city-run hospitals from prescribing too many pain pills, the city is ramping up its efforts to clamp down on prescription pill abuse.
Under a new pilot program announced this morning, the city will begin arming cops with anti-overdose drugs that they can administer to people before medical personnel arrive.
"We're trying to give some police officers an antidote for overdose because the cops show up and somebody's OD'ed … before a doctor can get there or an EMT," said Mayor Michael Bloomberg, who announced the plans on his weekly radio sit-down with WOR's John Gambling. "Sometimes," he added, "people can die."
Mr. Bloomberg went on to explain that drugs like "Oxyconty" (likely OxyContin), Percocet and Vicodin have become a serious problem across the city–especially in Staten Island, where the overdose rate is triple that of any other borough.
"They've become a substitute for narcotics and it is an enormous problem," he said, noting cases where people have held up drug stores or held up people leaving drug stores in search of pills.
Officers in the 120th Precinct on Staten Island, which has one of the highest overdose rates in the city, will be given doses of naloxone, which comes in the form of a nasal spray. Police Commissioner Ray Kelly said in a statement that "Equipping officers to administer naloxene to overdose victims may mean the difference between life or death for individuals addicted to prescription painkillers."
The new program is part of a larger effort by the city, which has been awarded the first grant of its kind from the Department of Justice to continue cracking down on the pills. The city also announced today that 35 hospitals have now adopted the voluntary restrictions limiting the number of opioid painkillers their emergency rooms can prescribe.
Accidental overdose deaths linked to painkillers jumped 267 percent between 2000 and 2011, according to city stats, and was responsible for 190 deaths in 2012.