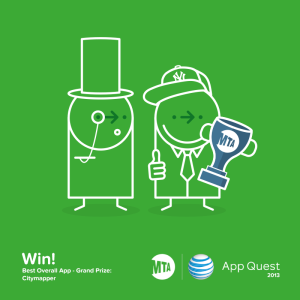 Citymapper crosses the Atlantic Yesterday AT&T and the MTA announced London-based Citymapper as the winners of this year's App Quest competition, awarding them the grand prize of $20,000 and an extra $2000 for being the "Wish List App." Citymapper integrates real-time tracking data across all of New York City's various transportation methods, including subways, busses, and Citibikes. It also tells users how many calories they'll burn on their trip, so they can decide whether or not to grab a slice on the way.
Betaworks opens up NYC-based Betaworks announced on their blog on Monday that they'll now be syndicating their seed investments. The announcement takes advantage of the government's lifting of the general solicitation ban, which now allows companies to openly advertise that they're fundraising. The new development comes as part of their ongoing  Openbeta transparency initiative, which gives users the chance to learn about the companies it incubates and test out the products that Betaworks is working on before they officially launch. Now, through AngelList, Openbeta testers can also invest in those companies alongside Betaworks.
Teambuilding is great, right? The new, totally overhauled version of team task management app Flow was released yesterday, with even more emphasis on the word team. In the new Flow, everything is centered around "Workspaces," which are designed to help you organize your tasks and conversations into specific groups, and even groups within those groups so you can leave as many people out of the conversation as you want. And for nosy managers, the new "Dashboard" feature lets you keep tabs on everyone's task activities in the style of threaded email conversations.
Android app avalanche Today RebelMouse launched its app on Android. The app, like the site, gives users the freedom to create their own social media homepages by combining feeds from places like Twitter and Facebook in one Pinterest-like package. Last week, Wickr, the extremely privacy conscious "self-destructing" messaging service, also made its way to the Google Play store. And as of yesterday, the Jackthreads Android app is there too. Jackthreads, a curator of men's "street, skate, surf and contemporary fashion," says that nearly half of its sales and two-thirds of its total traffic come from mobile devices.
MyMusicCloud revamped A new version of MyMusicCloud, a multi-platform cloud-based music storage service, was released last week with a couple of new free features. Along the lines of Google Music and Spotify, MyMusicCloud lets you store and listen to your music on any device, but it offers both online and offline services. The new version includes a music recommendation feature for tracks, artists, and albums, and users can now store an unlimited amount of music with the free plan.