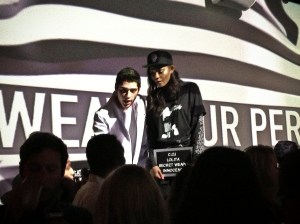 We were late. Fashionably late, of course, as a variety of fashion-related events kept us from arriving at the much-anticipated Conflict of Interest Spring presentation. On our way to the event at Lightbox on West 38th, shoes pinching us ever so slightly as we made our way to the door, we hobbled past two drunk women screaming and giggling at the sight of a model in a similar state — a preview of what was to come.
Four women with long locks checked our name on the list and we were whisked inside a dark hallway, lit only by the screen of our abused iPhone. We followed the throbbing dubstep to lights peeping through a double door. We could smell the party, a mix of spilled drinks, sweat and smoke.
Conflict of Interest, or C.O.I. to those that know it well, likes to blur the line between street and style, riffing off high fashion and celebrating bootleg branding. One year ago, they debuted a three tee shirt capsule line with $60 black tops declaring "Giraunchy," "Bodega Vendetta," and "Ballinciaga," nearly identical to the originals they parodied. This playful take on trademarks garnered the attention of Carine Roitfield, Jay Z and even Riccardo Tisci, who we're told, proudly sports his tribute tee on more than one occasion.
More impressive than the success of C.O.I.'s masterminds is that they've managed to keep their identities secret. They bill their label as a "fictitious, convert goverment [sic] agency charged with confiscating 'unlicensed' designer goods. Its agents raid warehouses and shipping containers worldwide to obtain the few items that have appeal, the rest are destroyed." In real life, they're insiders with an affinity for fashion, co-opting couture and infusing it with mischief.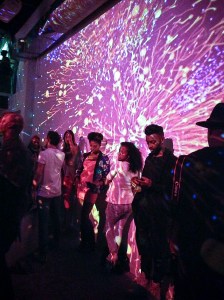 For the presentation, models stood atop several small platforms above the throngs of partygoers, posing in their C.O.I. attire. When it came time to change outfits, the male models simply removed their shirts in full view of the crowd and donned new ones, baring their bodies under the neon lights.
Since launching last year, C.O.I. has expanded its line to include "Niu Niu York," "Tom Lord," "Benzo" and "Ill Slander," among others. Brands, said one of C.O.I.'s co-creators, or "agents" as they call themselves, that have their own visual language.
"The logo is instantly recognizable and the name is instantly recognizable," our informant told us  over the blaring bass. "It's got great street currency."
"When you wear [our clothes] on the sidewalk, people are going to be like, 'Where'd you get that from?' We're all about 'Where'd you get that from.'"
The music died down and the models disrobed again and left their shirts in piles on the now-vacant platforms. Kyleigh Kuhn wore floral with a blackened lip, while Chelsea Leyland, another of the event's hosts, was hard to find. Mingling around the crowd, we spotted Spike Lee sipping from a straw. Curious, we asked him whether he was a fan of the brand. Pausing for a few moments, he turned to us and responded, "I don't know yet."
We, too, had not yet made up our minds about whether C.O.I. is breaking ground or just marking up Canal Street knock-offs for SoHo clientele, but enough people were paying attention that we felt we ought to form an opinion. We were just twenty blocks south of Lincoln Center and the traffic of the tents when we realized, we definitely wanted an Ill Slander of our own.