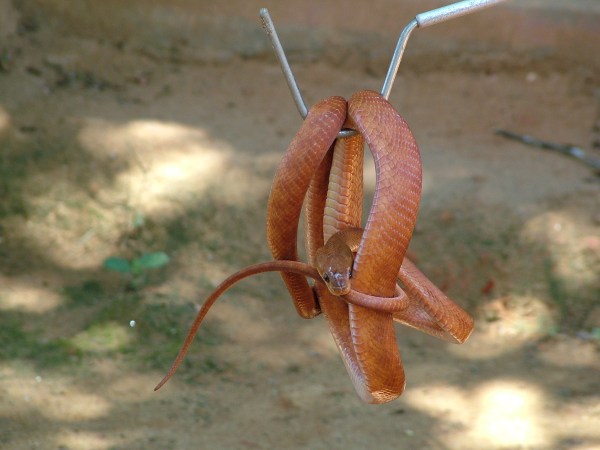 Long Island police found approximately 850 snakes hidden in the garage of a Brookhaven Town animal control officer on Thursday.
44-year-old Richard Parinello was being investigated for disability fraud when authorities stumbled on a menagerie of thriving boa constrictors, pythons and hog-nose snakes slithering in bins packed away in his garage-turned-storeroom.
Though unlicensed to sell exotic animals, Mr. Parinello was running a booming online business, Snakesman's Exotics, out of his home in Shirley. Tarantulas, turtles, and three small frozen alligator carcasses were also found.
"I'd never seen so many snakes in one place before, even in a zoo," Roy Gross, who is chief of Suffolk County's Society for the Prevention of Cruelty to Animals, told the Post. 
It's currently unclear what will become of Mr. Parinello's reptilian inventory. A pair of illegal six-foot-long Burmese Pythons — similar to the snake that killed two boys in August — were confiscated and will find a new home in a Massachusetts animal sanctuary, though Mr. Parinello will get to keep the rest of his serpents for now.
The state Department of Environmental Conservation issued him at least $500 in fines for owning the pythons and the unlicensed possession of alligator parts, for which he'll answer to a First District Court judge in Central Islip Oct. 23. He also faces charges of running a home business without a permit and may lose his job.
Neighbors were shocked. "He seemed like a nice, quiet guy," 38-year-old Ruben Alcazar told Newsday, despite the fact that vehicles in the owner's driveway bore the vanity plates "SNAKEVAN" and "SSSSNAKE."