To Dawn Goldworm, a stuffy nose is not an inconvenience — it brings her life to a screeching halt.
"I can't work when I have a cold," she said. "Because I see through smell, a cold changes my whole world to black and white. I'm completely insufferable."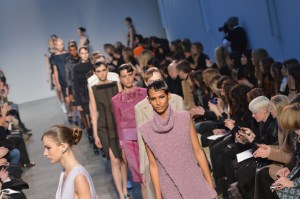 She's not just speaking in metaphor, either. Dawn and her twin sister Samantha each have a neurological condition called synesthesia, which causes the way they perceive sensory input to blend together. As Dawn explains it, they don't just smell odors — they see them. A hint of fragrance translates into more than just a scent, they experience colors and textures as well.
The Goldworm sisters make up 12.29, the world's first olfactive branding company. For the past four years, the duo has scented some of fashion's most talked about shows — including Rodarte, Jason Wu, and Thakoon — and developed brand fragrances for a variety of individuals and companies. This fashion week, 12.29 created the aromatic atmosphere for the CALLA and Tocca shows, as well as the official scent of the American Express Skybox at Lincoln Center.
So what is it like to take a whiff of American Express? "The brand has such a strong identity," Dawn said. "So it was easy to translate that into a smell identity." It was inspired by Am Ex's vision of its own black card members — a man in his 50s, a wealthy, well-dressed jet-setter. The fragrance is sophisticated and clean. It has leathery notes that are anchored by a grittier base — "dirty, in an earthy, potato skins sort of way."
These hints of dirtiness make an aroma more appealing, Dawn explained. For this fashion week's ballet-inspired Tocca show, she infused smells like human sweat and dry stage wood with more traditionally pleasant scents like violet. The hope is that breathing in designer Emma Fletcher's bouquet will invoke a vision of a fully made-up dancer, still wearing her well-worn rehearsal duds underneath her costume.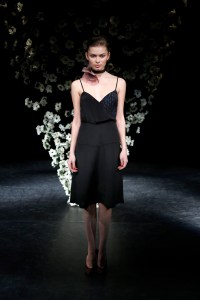 "On an unconscious level, you need to know how much dirtiness or cleanliness your consumer identifies with," Dawn said. Even familiar florals are enriched with subtle animal notes, like the slightest whiff of wet dog. Jasmine, for example, is the combination of a pre-ripe banana and dirty hair.
Scenting a physical space like a skybox requires technology a bit more advanced than a few spritzes from a jumbo perfume bottle. The odor emanates from a pure oil that is atomized into a gas and distilled and distributed evenly throughout a room through the air conditioner. For fashion shows, the oil is diffused from portable containers that are installed strategically in the space — some are built into the stage, mounted on the ceiling, or even slipped under onlookers' seats. Since the substance contains no alcohol — the typical allergen in perfume — it is unlikely to make people sniffle or sneeze the way some might at a cosmetics counter.
Dawn spends about 90 minutes with each designer to kick off the scent creation process. They talk about everything but smell. "I dig into the color, shapes and emotion of the brand. I try to figure out who they're talking to," she said. Dawn leaves the meeting with an "olfactive vision" of what the fragrance might be like.
The concept of olfactory branding was born as Dawn's master's thesis at NYU. After graduation, she convinced a friend to let her scent his accessories shop in Paris. Samantha, who is responsible for 12.29's marketing and branding, came on in Fall 2009 when Dawn was tapped to get the audience sniffing at Rodarte's Spring/Summer show. In response to investors' concern that the entire creative direction of 12.29 rested on one woman's beak, Dawn has been grooming her twin's olfactory sensibilities. "I've been a nose in training for many years, but in the past year, it's really intensified," Samantha said.
Despite our sense of smell's emotional power — studies show it triggers thoughts and memories — it still strikes the Goldworms as the most artistically ignored sense. They believe that olfactory branding will eventually become something people take for granted.
"We talked a lot about when Woolworth's first put a band in the store," Samantha said. "People said, 'why is there music in the store when I'm shopping?' Now you can't walk into a retail space without music. If there's not music, you're like, it's way too quiet in here. Smell is another part of that puzzle affecting our senses. It's that last piece."