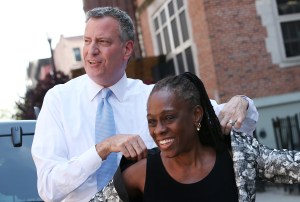 They may be trying to defeat him in the polls, but Bill de Blasio's mayoral opponents have his back on this one.
Christine Quinn, Bill Thompson and John Liu all criticized Mayor Michael Bloomberg for labeling Mr. de Blasio's campaign "racist" because it prominently features his mixed-race family, according to a New York magazine interview published this morning.
"Mayor Bloomberg has said some pretty outrageous things in recent weeks, and I don't think it's right for him to use the word 'racist.'" Mr. Liu told Politicker after speaking at a National Action Network rally in Harlem.
Mr. Thompson echoed Mr. Liu. "Bloomberg's comments are outrageous," he wrote on Twitter. "We are all proud of our families, and we should be."
"There is so much about what Mayor Bloomberg said that is offensive and callous, particularly his comments about the poor," Mr. Thompson followed up in a statement focused on the full New York interview. "The Mayor is so out of touch and doesn't get the struggles that low income and working class families face in this City. And as our school system continues to fail our children, it is shocking he still defends his appointment of Cathie Black. I am going to set a new path for this City from day one as mayor."
Ms. Quinn, whom Mr. Bloomberg had praised in New York, called the remark "unfortunate."
"I think the mayor's comments are extremely unfortunate. I totally disagree with him, totally disagree," she told reporters at a campaign event.
She declined to address whether Mr. Bloomberg's criticism would only serve to boost Mr. de Blasio's front-running candidacy. "Forget the politics for a second," she said, going back to her talking point on the the issue: "I don't think the mayor should have made those comments. I don't think they should have been made and I think they were unfortunate."
Ms. Quinn found herself on the same page as Mr. Bloomberg, however, when asked about the mayor labeling The New York Times "right" in endorsing her in the Democratic primary.
"Well I couldn't agree with that more. I think the Times did do the right thing in endorsing me. That is an area where I would be in agreement with everyone who agrees with that perspective," she said.
Updated (1:58 p.m.): With Mr. Thompson's additional statement.