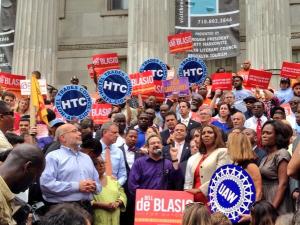 Democratic leaders and labor unions are making it very clear they do not want a runoff election.
Standing before the steps of Brooklyn Borough Hall, a mass of elected officials and unions, including the labor-backed Working Families Party, officially endorsed Public Advocate Bill de Blasio for mayor today.
They join Rev. Al Sharpton and other labor leaders who announced their support for Mr. de Blasio yesterday.
Many of the endorsers had backed Council Speaker Christine Quinn, who was defeated in last Tuesday's primary, or were otherwise neutral. Her loss allowed them to get behind Mr. de Blasio as the second-place finisher, Bill Thompson, holds out hope he can make the runoff.
Mr. de Blasio finished far ahead of Mr. Thompson and current has slightly over 40 percent of the vote, the minimum threshold to avoid an October 1 runoff contest. However, thousands of absentee and affidavit ballots still need to be counted, which won't begin until next week.
The Democratic and labor establishment, however, has indicated they have little appetite for another primary race. Indeed, the two Democrats who will be locked in a citywide runoff for public advocate, Councilwoman Tish James and State Senator Daniel Squadron, were among those endorsing Mr. de Blasio today.
"There are two reasons we are supporting Bill de Blasio. He tells the truth, and he's a fighter for the middle class, working class and poor. That's an awfully good combination, and we're excited to get behind his campaign," Dan Cantor, executive director of the WFP, in a statement. "Bill de Blasio has dedicated himself to addressing the soaring inequality that characterizes New York."
A full list of the Democrats and left-leaning organizations who have endorsed Mr. de Blasio since Tuesday:
Héctor Figueroa, President of 32BJ SEIU
Peter Ward, President of the Hotel Trades Council
Working Families Party (WFP)
Congressman Jerry Nadler
Stuart Appelbaum, President of the Retail, Wholesale and Department Store Union (RWDSU)
United Food and Commercial Workers (UFCW) Local 1500
Brooklyn Borough President Marty Markowitz
Former Congresswoman and City Comptroller Liz Holtzman
Planned Parenthood of NYC Political Committee
Assemblyman and Chair of the NYS Black, Puerto Rican, Hispanic, and Asian Legislative Caucus Karim Camara
Assemblywoman Deborah Glick
Assemblywoman Linda Rosenthal
Assemblywoman Nily Rozic
Assemblyman Phil Goldfeder
Assemblyman Mike Simanowitz
Assemblywoman Gabriela Rosa
Assemblyman Rafael Espinal
Assemblyman Dick Gottfried
Assemblyman Michael Miller
State Senator Daniel Squadron
State Senator Kevin Parker
State Senator Brad Hoylman
State Senator Gustavo Rivera
State Senator Joe Addabbo
State Senator Martin Dilan
Councilman Ydanis Rodriguez
Councilwoamn Tish James
Councilman Donovan Richards
Councilwoman Margaret Chin
Councilman Erik Dilan
Councilman Danny Dromm
Councilman Steve Levin
Councilman Jimmy Vacca
Councilman Dan Garodnick
Former Councilman and Assemblymember Guillermo Linares
City Council Democratic nominee Ritchie Torres
City Council Democratic nominee Menchaca
City Council Democratic nominee Corey Johnson
City Council Democratic nominee Helen Rosenthal
City Council Democratic nominee Reynoso
City Council Democratic nominee Mark Levine
Democratic nominee for Brooklyn District Attorney Ken Thompson
United Auto Workers (UAW) Region 9A
Communication Workers of America (CWA) Local 1180 President Arthur Cheliotes
International Union of Operating Engineers Local 891 President Robert Troeller
International Union of Operating Engineers Local Unions 94, 94A, and 94B President Kuba Brown
District Leader Paula Melendez
District Leader Corey Provost
District Leader Frank Gulluscio
Former Community Board 1 Chairperson of Lower Manhattan Julie Menin