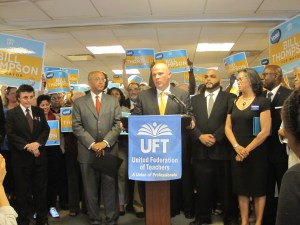 The city's powerful teachers' union just can't seem to get mayoral races right.
When the United Federation of Teachers offered its coveted endorsement to Bill Thompson in June, it was seen as a game changer for the candidate. But the union's efforts came up short yet again, with Mr. Thompson conceding the contest today after placing a distant second.
This is not a new situation for the UFT, which chose to sit out the 2005 and 2009 races, and–as its critics like to point out–last backed a winning candidate in 1989.
Nevertheless, when they endorsed Mr. Thompson for mayor back in June, president Michael Mulgrew couldn't have been cockier.
"We are very, very confident and we are all in to win it," he told reporters gathered at their Lower Manhattan headquarters, where dozens of eager supporters waved freshly-printed "Thompson for Mayor" signs.
He had spent months touting the UFT's beefed-up political operations, repeatedly proclaiming that–after years of losses and sitting on the sidelines–this year, the union would play kingmaker. Their polling data was so sophisticated, they boasted they could "pinpoint the views of Puerto Ricans and Chinese immigrants" and  "tailor messages based on brands of toilet paper voters buy."
"We're not about picking a mayor," Mr. Mulgrew once told Politicker. "We're about making a mayor, making the winner. And that's what we're gonna to do."
They failed.
Mr. Thompson today officially conceded the race to front-runner Bill de Blasio, the city's public advocate, who managed to win a commanding 40.3 percent of the Democratic primary vote last week. While Mr. Thompson had previously said he would stick it out until tens of thousands of outstanding ballots were counted, he faced tremendous pressure to drop out, with numerous Democratic officials and even his former supporters–urging him to end the contest and unite around Mr. de Blasio ahead of November's general election.
"Obviously the union endorsement got Thompson some votes, but de Blasio's message and campaign got a lot more,"  acknowledged a UFT source last Thursday ahead of a meeting between Mr. Thompson and many of his advisers at the union's headquarters.
"It turned into a very different race," he said, pointing to the dramatic decline of City Council Speaker Christine Quinn's bid, which helped Mr. de Blasio cross the 40 percent threshold needed to avoid a runoff election. "The collapse of Chris's campaign and the success of Bill de Blasio's campaign and message trumped the union efforts on Thompson's behalf."
Ironically, some sources said Mr. Mulgrew had wanted to endorse Mr. de Blasio, whose views on charter schools, school closures and teacher evaluations more closely aligned with the union's. But Mr. Mulgrew and his close circle came to the conclusion–following extensive number-crunching–that there was simply no way for the public advocate to assemble a winning coalition.
Of course, the race looked very different then, when Ms. Quinn and former Congressman Anthony Weiner were the front-runners in the public polling.
"He has no base. He's got a little of this, and a little of that, a little of this. He has a path to victory, but it's one of those things where you can't miss a single thing. And so that was a big part of it," a union source said of Mr. de Blasio at the time.
Making Mr. Thompson's lack of electoral success even more notable, the union invested considerable resources on his behalf. In total, they spent nearly $3 million from the union's political action committee United for the Future, which was run by the UFT's political director Paul Egan. Mr. Egan declined to comment on the group's effort, but before it had officially launched, sources had said the group had planned to spend "in the mid to high seven figures."
Additionally, the UFT placed over 380,000 live and robocalls to members on Mr. Thompson's behalf, according to union spokesman Peter Kadushin. Members also knocked on more than 10,000 doors, concentrated in Queens and Staten Island, held education-themed rallies and leafletted before and after school once classes started in the fall, among other activities, he said.
Mr. Kadushin noted that Mr. Thompson was at 10 percent in the polls when the union endorsed him on June 19. He finished at 26 percent, with the possibility of a runoff–a decent finish but not enough to stop Mr. de Balsio, who likely received a large chunk of UFT members' votes as well.
Some said that Mr. Mulgrew's biggest mistake was not his candidate, but his tenor.
"There was a little too much bravado that held them to a higher standard and they didn't need it," mused one rival labor leader, who said late last week that he expected the UFT to jump on board soon. "I think the last thing the UFT would want would be to fail to support a winner."