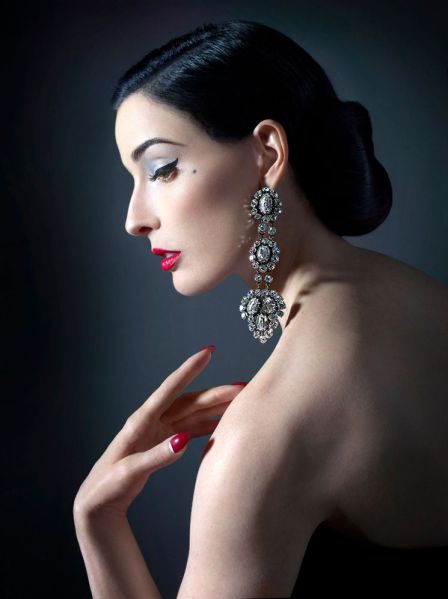 It's nearly impossible to overstate Dita Von Teese's beauty. With her powder-pale face, blood-red lips and dark, cascading hair, Dita looks as though she stepped out of one of Bram Stoker's erotic fantasies. If Solomon had seen her, he would not only have sung but also tap-danced.
Sometimes, she still doesn't feel pretty.
"I was made fun of all through school for how I looked," said Ms. Von Teese, her whispery voice tapering off for a moment before she gets a second wind. "I was so skinny, and I had knobby knees, and my skin was kind of a grayish color. I was kind of awkward. And more than anything, I just felt I disappeared. I still feel like I totally disappear when I don't have my makeup on and my hair pulled back."
Most people would challenge that claim. Ms. Von Teese appeared on Vanity Fair's 2013 Best Dressed list alongside Duchess Kate, Gisele and Kerry Washington. The magazine claimed she was the antidote to a Girls Gone Wild generation and described her as "a curvaceous, alabaster-skinned, immaculately coiffed stripper with a fondness for retro fashions and the attention to detail to do it right." She has been a featured guest on America's Next Top Model, celebrated on the cover of Playboy, modeled in haute fashion shows for Jean Paul Gaultier and starred in a MAC Cosmetics campaign.
The burlesque star, who is bringing her show Strip, Strip Hooray to the Gramercy Theater from Sept. 30 to Oct. 4, is renowned for being one of the most beautiful and stylish women in the world.
"What designer wouldn't covet the opportunity to work with Dita Von Teese?" Michael Schmidt, who made a 3-D dress for her in March, said. "Like all great muses, she informs and elevates a designer's work by her presence."
Will Cotton, the New York artist whose work frequently features pin-up style models in candy-land scenes, painted Ms. Von Teese in 2008. "She's someone who has completely invented herself, and she's totally captivating," he said. "She's more than a great beauty. She's an icon."
But as the hour approaches midnight, she sounds like a very tired icon.
It's a demanding job. Fan sites like Black Swan Dita and Dita is Our Queen track her every move, bestowing Ms. Von Teese with the kind of attention she once craved more than anything.
"I'm a blond girl from a farming town in Michigan. I wanted to be perceived as glamorous and mysterious. I wanted to have people walk in the room and have people think I was from another land. When I was little, I used to pretend I was from France. I just wanted to be noticed."
Her desire to be seen may be part of what makes her a great presence. There is a moment in Being Julia, the 2004 film based on Somerset Maugham's Theatre, when a character says that great stage performers must have the instinct to "grab the audience by the throat and say, 'Now, you buggers, you pay attention to me!'"
Ms. Von Teese would echo that thought very politely. In a soft, almost trembly voice, she describes herself as "very, very shy." Honestly, though, she wouldn't even need to speak. She can communicate that demand, like silent film star Dita Parlo from whom she took her name, just by the way she looks.
"I didn't feel I could really be beautiful or special or mysterious or glamorous until I saw the images in the '40s movies," she said. "And those sex goddesses—it's all created, it's not natural beauty. I saw that and thought, I can't be Cindy Crawford, who is someone I think is really naturally beautiful, but I can paint my way to being Marlene Dietrich or Rita Hayworth.'"
She has been dedicated to that look ever since she was a teenager. You're never going to catch her in sweatpants, despite the fact that interviewers seem to want to insist that she must wear them sometimes.
She doesn't. Really.