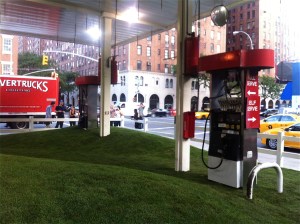 No one paid much attention when mounds of gravel and a small bulldozer materialized at the now defunct Getty gas station on the corner of Tenth Avenue and 24th Street last Friday, maybe because construction is to be expected: the site is slated for demolition and development into luxury condominiums. Yesterday, however, when the rocky hills were carpeted with real bright green grass, passersby stopped all day to take pictures from behind the white wooden fence surrounding the station. "Who's the artist?" asked one woman, as she snapped photos of the undulating field. The art will be installed next Monday, when a flock of concrete sheep by the late French sculptor François-Xavier Lalanne arrive in the pop-up meadow.
"Sheep Station," a noncommercial exhibition that will open to the public on Sept. 17, is a collaboration between Michael Shvo, the wunderkind broker turned developer who bought the site in May for $23.5 million, setting a real estate record for the neighborhood in terms of price per square foot, and his pal Paul Kasmin, the Chelsea dealer who represents Lalanne and his wife Claude.
"There's something quite nice about doing something unexpected," said Mr. Kasmin, who is providing half of the 25 sheep. The other members of the concrete flock will come from Mr. Shvo.
"My wife and I own one of the largest collections in the world of their work," said Mr. Shvo. "I own over a hundred sculptures."
He added that "we live with Lalannes in every single home we have."
According to Mr. Shvo, he and Mr. Kasmin decided on a noncommercial show because "We equally love our sheep and we equally are attached to our sheep and we equally do not want to part with our sheep."
The exhibition came together quickly over the course of just a few weeks, a pace at least partly enabled by Mr. Shvo's reputation for being in near constant motion.
"He's always on, he's got this energy," said Bethanie Brady, a director at Paul Kasmin Gallery. "He's up at 4:30 a.m. practically and then working until midnight, so we've all been on that schedule. It's like having a baby, the no sleep schedule." Mr. Shvo said he has been visiting the Tenth Avenue site every day. Yesterday he came by limousine with his wife, a comely blonde wearing Louboutins whom he gently admonished for letting her long, red lacquer heels sink into the delicate sod.
Mr. Shvo said he plans to stage a number of shows at the site both before demolition begins late this year and throughout construction of the new 125-foot building, a mixed used residential and retail complex he has described as "art-themed." The upcoming installation may be a means of attracting the attention of the art collectors who Mr. Shvo said he expects will become residents. It wouldn't be the first time art has entered into his marketing strategy; he once partnered with Jack Shainman Gallery to adorn the lobby and sales office for his 67-unit conversion at 650 Sixth Avenue with large works by Carlos Vega and other artists.
The Les Lalannes market has stayed strong since it boomed in the wake of a record-setting 2009 auction of Yves Saint Laurent's collection, during which a decorative cocktail bar with a high estimate of $383,304 sold for $3,548,960. More recently, all of the moutons that went on the block in June at Christie's New York and Paris and Sotheby's New York exceeded their high estimates, according to Artnet data.
"The sheep," said Ms. Brady, "are very coveted pieces."