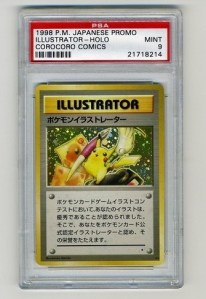 If you have a spare $100,000 lying around and are all out of matches with which to light it on fire, don't worry. There's an even easier way to dispose of those annoying hundred g's and it's called buying a stupid Pokemon card.
Pokemon is apparently still relevant to some sad souls out there, Geek.com insists, along with other card games like Yu-Gi-Oh! and Magic: The Gathering, so now is the perfect time to buy the Pikachu Illustrator card, of which there are only six in rotation.
In addition to having an extremely rare drawing of a made-up beast on it, this Pikachu Illustrator card, you see, is "the first graded one of its kind, making it the most rare Pikachu Illustrator among the other five." Oh, sure, now the price makes sense.
The seller doesn't expect the card will fetch the $100,000 Buy It Now price on eBay, Geek.com reports, but does expect it to sell for around $50,000. Sounds reasonable.