New York City superbroker Dolly Lenz not only lost the backing of one of the city's most powerful brokerages when she decided to go it alone, but also some of her star-studded listings. Former NFL coach and insanely popular video game franchise namesake John Madden's co-op at the Dakota, was just sold, according to city records—but the broker was Elliman's Katherine Gauthier, not Ms. Lenz, who once had the listing.
The two-bedroom, 2.5-bath residence has been on the market for two and a half years, with an initial ask of $4.9 million, later dropped to $4.4 million. It eventually sold for $3.9 million, with the sale closing during the middle of the August doldrums.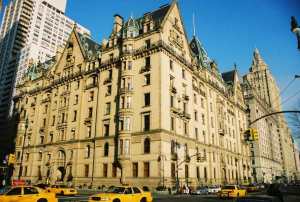 The apartment boasts "original moldings" and "two magnificent fireplaces," along with in-unit laundry, "a separate entrance from the celebrated Dakota courtyard," and "original window shutters," according to the listing. Alas, the listing does not make mention of what floor the two-bedrrom is on, which can make all the difference in the world at the Dakota: lower-level units get a view of the hoi polloi spewed up from the subway station out front, upper-level units get a view of Central Park.
Mr. Madden and wife Virginia sold the unit at 1 West 72nd Street to fellow Bay Area residents Gregor and Cecilia Freund. Mr. Freund founded Zone Labs, which makes antivirus software, and is currently trying his hand at an education start-up called Versal.
The Maddens make their home in Pleasanton, California, about 25 miles inland from Oakland, and were obviously using the apartment as a pied-à-terre. How much use it was actually getting, though, is an open question. While Ms. Madden has a pilot's license, Mr. Madden is notoriously afraid of flying, which might have made getting to the east coast to enjoy their slice of the Upper West Side a bit tricky.
Correction: The post initially stated that Dolly Lenz sold the apartment. We regret the error.