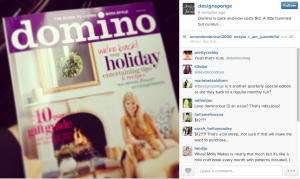 Domino is back.
Design*Sponge, a design blog run by former Domino contributing editor Grace Bonney, posted a photo of what appears to be the resurrected magazine's cover on its Instagram feed this afternoon.
The Condé Nast shelter magazine, which closed in 2009, was rumored to return "as early as September."  But judging from the photo, it looks like the issue will be more holiday-themed (also, it's almost October). According to Design*Sponge's Instagram post, a subscription to the magazine will run $12.
In August, Women's Wear Daily reported that Domino would make a comeback as an e-commerce site and quarterly magazine. According to WWD, the project is spearheaded by the founders of e-commerce design site Project Décor and the masthead will include  ex-Domino staffers Michelle Adams and Beth Brenner.
We reached out to Condé Nast and are still waiting to hear back.