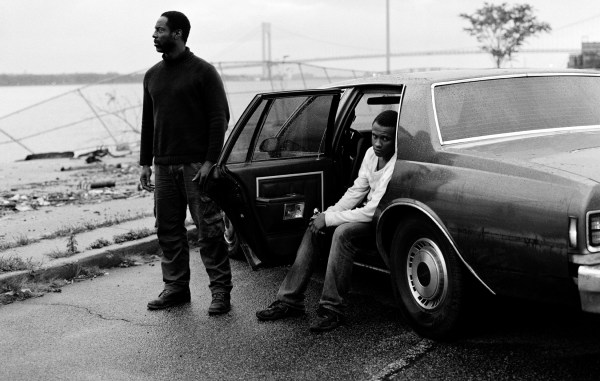 Blue Caprice, a disturbingly intimate look at the Beltway sniper attacks of 2002, isn't a horror film, but it certainly feels like one. It may cause you to glance more than once over your shoulder the next time you fill up at the gas station or walk through a grocery store parking lot.
Although the Beltway killers, John Allen Muhammad and Lee Boyd Malvo, were caught three weeks into their senseless rampage, the movie feels especially urgent in the context of recent shootings across the country and the resulting debate over gun control.
Not that Blue Caprice draws attention to its relevance. The film opens, quietly and somewhat peacefully, on the Caribbean island of Antigua, where Lee (an emotionally withdrawn Tequan Richmond) lives in solitude, having been abandoned by his mother. One morning, the teenager notices a sharply dressed man named John (Isaiah Washington, excellent) strutting jauntily through town with his children, and his cheery mood contrasts starkly with the dark events you know are just around the bend.
John takes the teenager in, and the two develop a perverse kind of father-son relationship. It is revealed that the older man has kidnapped these children, and, when they are returned to his ex-wife, he and Lee take off for the United States, landing in Tacoma, Wash., before they head for the East Coast to commit their string of killings.
The movie slows things down in Washington, zeroing in on the backstory as John conditions Lee to be a killer, leaving him tied to a tree in the woods for an evening and engaging him in hand-to-hand combat, among other things. "There are some evil people in this world," he tells the impressionable young man as they walk through a suburban neighborhood. He points to a house, explaining that a woman resides there who testified against him in his child custody battle. The first test of Lee's loyalty, John says, is that he must shoot this woman, which Lee does without compunction.
With a spare script by R.F.I. Porto and an unsettling score by Colin Stetson and Sarah Neufeld, Alexandre Moore's understated directorial feature debut never once registers as a public service announcement; it doesn't cast judgment on its protagonists, which is not to say that it portrays them as sympathetic either. Blue Caprice offers a surprisingly personal and engaging examination of the murderers without going too deeply into the psychological motivations that may have caused them to commit such atrocious acts.
If it seems at first that John's indignation—which boils over into murderous anger—stems from a fraught relationship with his ex-wife, the movie quickly declares that evil is not that tidy. When John discovers where his children are living, he and Lee set off across the country in an old blue Chevrolet Caprice whose trunk is jury-rigged so Lee can snipe innocent bystanders out of view.
One evening, shortly before they begin their killing spree, having driven thousands of miles, the two gunmen pull up outside the home of John's children, and he looks on wistfully, getting lost in memories of fatherhood. "It's not about them anymore," Lee says, terrifyingly, as though their mission—whatever it may be—has evolved into something grander. John snaps out of his reverie and nods in stern agreement.
However human these two might once have been, Blue Caprice evolves with them into the most frightening monster movie of the year.
BLUE CAPRICE
WRITTEN BY: R.F.I. Porto
DIRECTED BY: Alexandre Moors
STARRING: Joey Lauren Adams, Isaiah Washington and Tim Blake Nelson
RUNNING TIME: 94 min.
RATING: 3/4