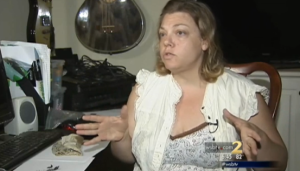 You can either smoke a lot of regular old cigarettes and experience a gradual death or you can take the gamble of smoking a single e-cigarette and almost get your face blown off. An Atlanta woman can attest to that after she recently unplugged her e-cigarette only to see it shoot four-foot long flames across her living room.
Elizabeth Wilkowski recounted to WSB-TV that just mere seconds after unplugging the e-cig from her computer's USB port, it made a loud noise and partially exploded. The mangled Chinese-manufactured device overheated so much that it even left a scorch mark in her couch and burnt a hole in her rug.
"It was like kaboom!, and I see this flame shooting across my living room," she said to WSB-TV, spreading her arms across her chest. "If I hadn't had been home, I would have lost my dogs, I would have lost my cats, I would have lost my house."
The e-cig in question is the Seego E-hit that was purchased from a suburban Atlanta smoke shop. The store's owner said the only complaints they hear about the veritable mouth fedora is that it's too low voltage to hold a decent charge. "I'm surprised that anything like that would happen," mused the owner.
It's also another reason to raise your barely-there eyebrow at the fast-growing but unregulated market. Other reports of exploding e-cigs have been reported in California, Texas and Florida.
Hey, at least you look less stupid when you ask for that box of Newports.
(Via CNET)