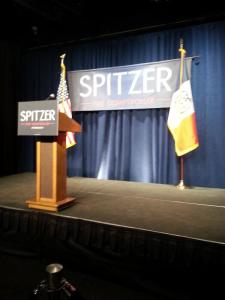 He gave Scott Stringer reason to sweat it out, but Eliot Spitzer will not be New York City's next comptroller.
The former governor, who had attempted to revive his political career with a run for a little-known office, conceded tonight in a hastily-delivered speech in Harlem.
"I've called Scott Stringer and congratulated him on a victory tonight, and wish him well as we go forward in his position as comptroller, I presume, and expect him to win this November," he said in a speech that lasted less than four minutes from start to finish–including a pause in the middle for cheers and chants of "Spitzer, Spitzer, Spitzer!"
The man of the hour didn't look crushed, exactly, but he certainly seemed ready to get the formality over with.
"For me, politics was never a profession. It was a cause. It was a calling to serve and to try to fight for those issues that we believed in, to see them sometimes before others and sometimes to take the slings and arrows of taking on those who were powerful."
The party was slow to start at Mr. Spitzer's gathering early in the evening. His party location, Harlem MIST, was full of balloons and suit-wearing supporters sharing cautious optimism–but the faces turned solemn as the returns continued to come in.
"That's the West Side! That's were Stringer lives!" one woman in a pink pantsuit insisted stubbornly as less-than-promising returns rolled in.
Of course, Politicker's impression may have been warped by the fact that most of the party seemed to be secreted away in a VIP section behind a big black curtain. Reporters were cordoned off even from supporters in the public area, though one of Spitzer's gatekeepers helpfully suggested that Politicker interview people outside.
When it came time for his remarks, Mr. Spitzer thanked his family–despite the conspicuous absence of his wife on the campaign trail– and said he was "proud to have run a campaign over the last nine weeks that many thought was incapable to mount in the very beginning, when we had to gather petitions."
"Service is something I believe in and I think we all believe in, and we will continue, in many and varied capacities," he said.
With that, Mr. Spitzer congratulated his opponent once more and scurried away to the sound of "Three Little Birds"–the Bob Marley song about how every little thing is gonna be all right.
Within 20 minutes, the place was practically empty except for reporters and a small crowd of weary staffers and die-hards, gathered around the bar.