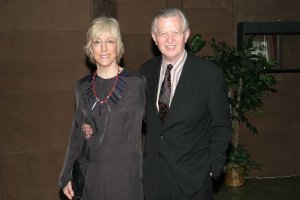 No matter what hangs on them, sometimes a person just gets tired of looking at the same four walls. This appears to be the case with John Elderfield, the former chief curator of MoMA's painting and sculpture department who now lends his considerable talents to the Gagosian Gallery. After a decade of ownership, Mr. Elderfield and wife Jeanne Collins, an art publicist, have sold their loft at 129 Duane Street, according to city records.
And what a loft it is! Mr. Elderfield, who enjoyed a youthful foray into architecture, clearly has an eye for good design. Photos of the two-bedroom, two-bath condo show a museum-like expanse of oak floors, recessed lighting, 12-foot ceilings and tastefully arranged art.
"Enter through a dramatic, art-filled gallery space," crows the listing, held by Corcoran's Laurence Carty and Irene Lo. And while the gallery space was doubtlessly included in the $2.62 million closing price, we're pretty sure that Mr. Elderfield will be taking all his art with him.
There are the landscapes on wood and canvas that he painted himself, sculptures, etchings, and of course the Jasper Johns print that MoMA gave him when he retired to curator emeritus in 2008. "This one will stay on Duane Street," Mr. Elderfield told The New York Sun at the time. Well, nothing is forever.
Mr. Elderfield and Ms. Collins bought the spread for a mere $1.6 million in 2003, so the sale should give the couple a nice wad of cash to buy some art with, especially if Gagosian offers an employee discount. In a 2003 New York Times article, the curator described the kind of longing and coveting that comes with spending all one's time with someone else's magnificent objects.
"When you're hanging the pictures," he told The Times, "you can maintain the fiction that these are all yours. But then you're finished, and people come, and there's a slight postpartum feeling, you know, that you've lost them… I started making a list of the works whose actual owners we felt don't deserve to have them, but it got too big."
We know the feeling. Fortunately for buyers Yvonne Mau and Darryl Chu, they've already taken possession of the object of their desire, even if they did have to pay slightly over the $2.49 million ask to do it—the 15 days the listing spent on the market suggests, if not a bidding war, then at least some competitive bidding.
Not very surprising given that the space is a knock-out, what with its "pin-drop quiet master bedroom suite," jacuzzi tub, "WOOD-BURNING FIREPLACE and a wall of OVERSIZED windows with planters filled with Evergreen shrub," quoth the listing, which struggles to maintain a balance between its EXCITEMENT and a tone of understated elegance.
But like most lofts, this one is not without its flaws: for all its 2,350 square feet, the second bedroom is "interior"—a.k.a. windowless. After all, artistic real estate, like art itself, demands certain sacrifices.